Post by Jack Loomes on Sept 8, 2014 3:19:21 GMT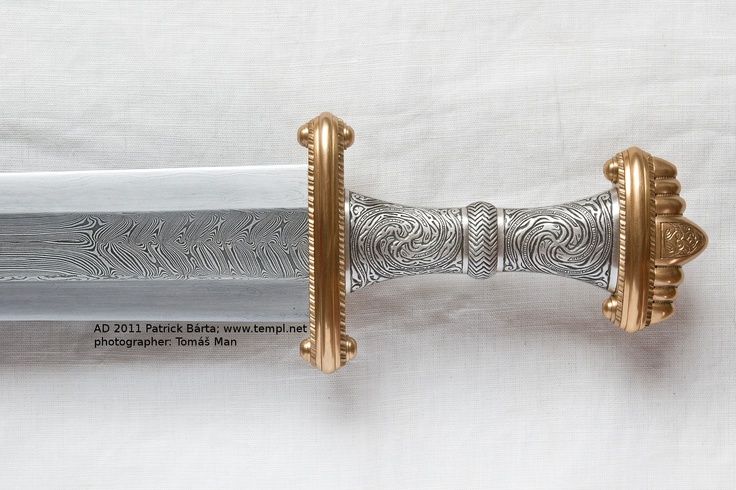 Patrick's skills working with precious metals rival those of the original migration era sword makers and cutlers.
I have long admired the sword making art of Patrick Bárta. He is unarguably amongst the great modern sword makers, but his talent does not stop there, extending well into the realm of jewellery. When it comes to highly embellished reproductions of some of history's most important swords there are few sword makers who could keep up with Patrick.
We in the English speaking world have not heard much of this remarkable man, as English is not his native language, though I was determined to get an interview out of him for the record. Being a humble man as he is, he was reluctant to agree to an interview as he was worried that his English was not up to scratch but I insisted that we here in the English speaking world were so keen to hear what he had to say that no one would mind if the English in his response was perfect or not, and besides which I promised to edit as necessary. As it turned out no editing was necessary and his answers were as crisp and precise as the file work on his swords.
A migration era sword by Patrick Bárta demonstrating his skill not only as a sword maker, but his mastery of the kinds of jewellery that the best migration era swords sported.
I proudly present to you my interview with the esteemed Patrick Bárta of
www.templ.net/:
+ + + + + + +
Bill: Why are you interested in swords?
Patrick:
Since I was child, I interested very much in history, the most European Middle age, and swords was very romantic items for me. When I started with sword fencing (1986), I needed to make swords and I started with interest in sword- crafts too.
Jack: How long have you been making swords for?
Patrick:
When I was 15 , I started with sword fencing. Because in this time was in Czech republic communists, here wasnt possible to buy some sword replica and was very difficult to get some information to swords too (the most books from West Europe). But here in many collections was many nice historical swords. So there was only one possibility:to make this swords for fencing in accordance with this originals. So when I was 15, I made my first sword for my fencing. Since this times I made swords first for friends, after 1989 (end of communists) for czech customers too, since 1992 Im professional sword cuttler.Since 1997 I make swords for foreign customers too.
Patrick Bárta is an acknowledged master of pattern welding for use in swords, and produces some of the most beautifully decorated swords of any living sword maker.
Jack: Do you have a favourite sword?
Patrick:
I love the most swords from migration period. My favourite sword is the gold hilt spatha from Blucina (ca 475-in my sites nr. 117). It is very nice sword and was found only 15km from my home. The original sword is in our museum in Brno.
Jack: What is your favourite part of sword making?
Patrick:
I love all parts of sword making, but the most forging and decorating.
Jack: Did you teach yourself to make swords or did other people teach you?
Patrick:
I'm total autodidact. Since beginning I study only original swords and books (the most archeological) to this field of study. I have still no student, but Im still not very old, so in future there can be some change.I have find many craft- techniques and there would be a pity to loose it after my death.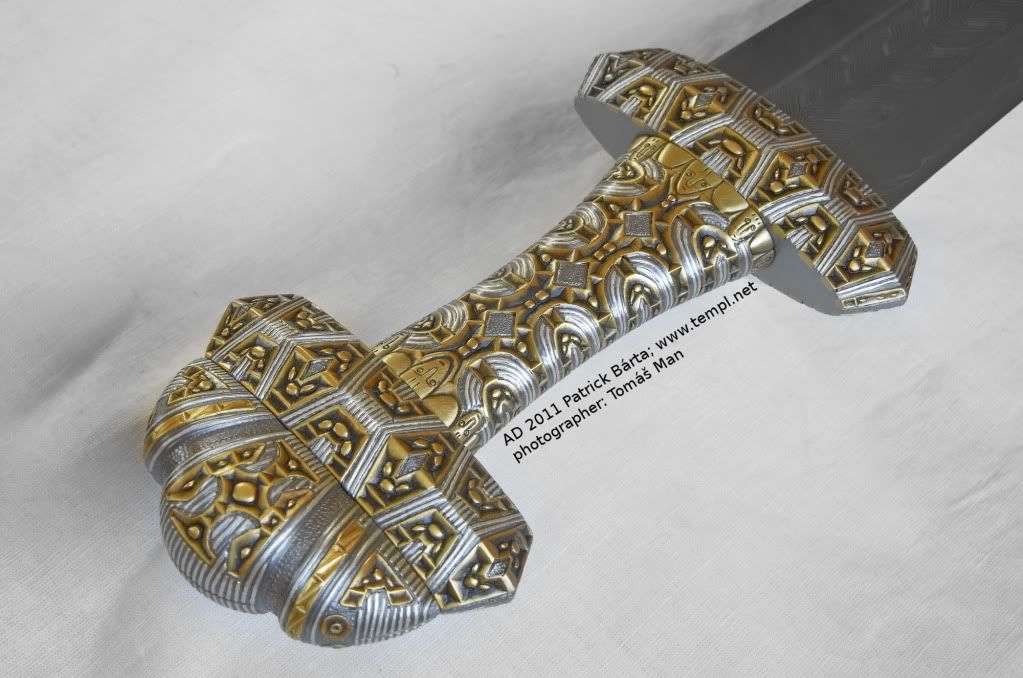 Patrick: "...I love the most swords from migration period."
Jack: How long does it take you to make a sword?
Patrick:
Average sword takes cca two months of work, very difficult and decorated four months. So I make in one year cca 6 swords.
Jack: You are a master sword maker - what advice do you give to people who want to be sword makers?
Patrick:
The most important is patience. Good craft of craftsmen needs usually many years of work.