Post by Jack Loomes on Sept 6, 2014 14:14:56 GMT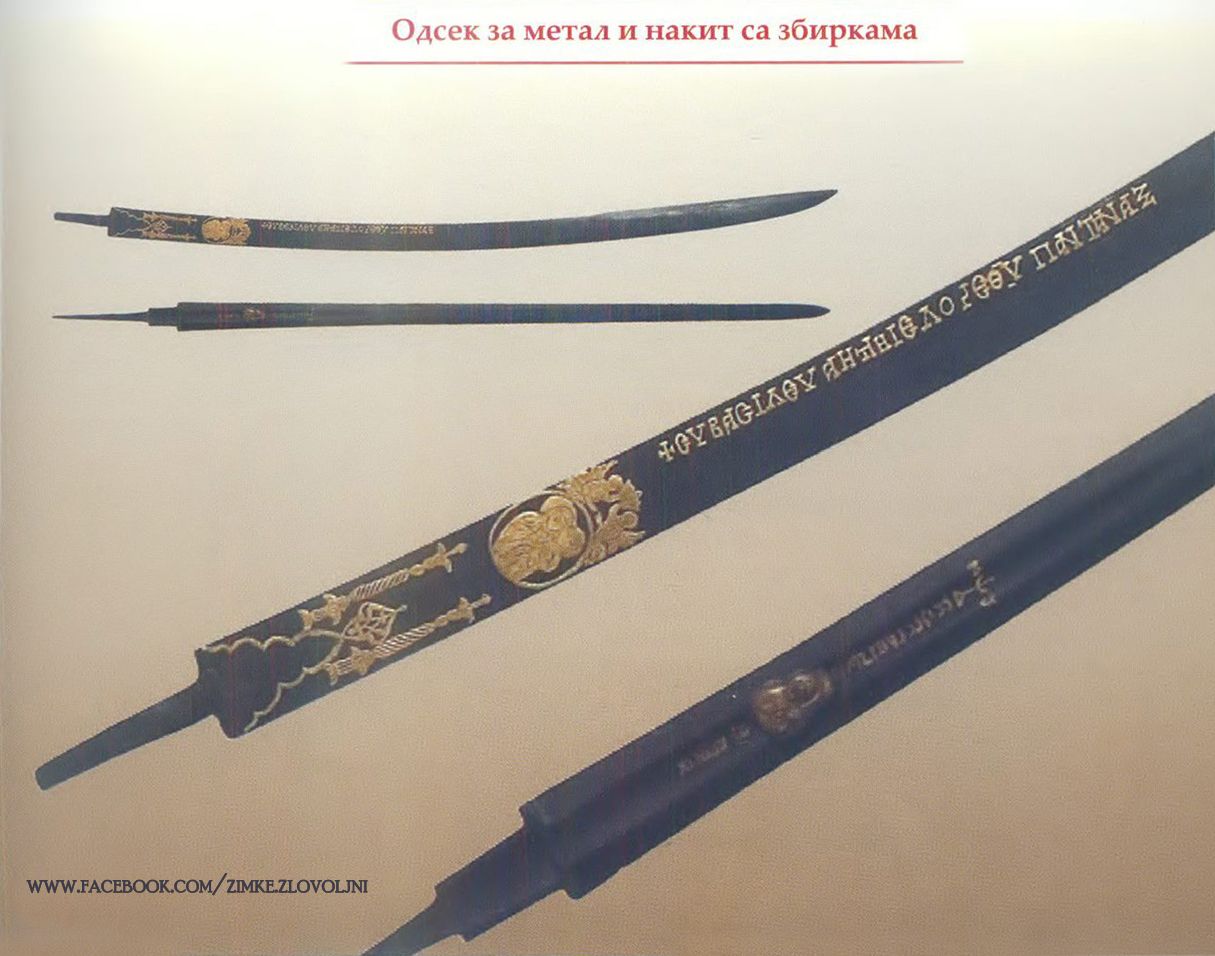 Steel, forged, engraved; gold, casting; inlaying (damascening)- L 1110 mm. It was on loan from the Museum of Belgrade and has an interesting tang.
Editor's Note: I had previously assigned this sword to the Byzantines, however a friend has pointed out that this sword is actually immediately post-Byzantine and comes from Serbia. The sword is still in the Byzantine section as it is a extremely typical of Byzantine cruciform sword blades circa 11th to 15th centuries, however the blades are actually from the 16th century, and from nearby Serbia. The curved sword shown with it is interesting because it features a short tang in the Indian fashion, much like on many Persian swords, whereas the last Emperor of Byzantium's sword which was a similar design appears to have had a slab tang: sword-site.com/thread/837/sword-attributed-constantine-emperor-byzantium

Here is the additional information regarding the sword as per my friend Zimke:
Weapons most likely belong from the event of "Ottoman siege of Belgrade in 1521", because the place of find indicate so (river bank next to Belgrade fortress) . Inscriptions and decorations on both weapons are orthodox christian, knowing the fact that no other orthodox christian soldiers were involved in defending of Belgrade city except Serbs, it is only possible that weapons belonged to some richer Serbian resident of Belgrade.
Translation of serbian cyrillic text is next:
457. SWORD AND SABER
XVI century, post byzantine work, accidental find on *danube side* of Belgrade in 1923.
Steel, wrought, gold gilding, engraving, length of sword 1110mm; length of sabre 985 mm
Sword is long, thin, profiled by length, with two edges. From hilt, by length, runs greek text ending with medallion in the form of trefoil with half-length depiction of virgin Mary holding juvenile Christ. Medallion is done in high relief.
Inscription translation is next: " The one lives, who put his hopes into You, he can't fail". Sabre is slightly curved, with sharp side on the lower edge, and sharpened third of upper edge. From both sides it has identical decorations: corrugated arch, done in a manner of "ropes", ending with quarter-foil entanglement, and from the sides are two twisted candelabras. Above it there is ellipsoid medallion depicting virgin Mary. Above medallion there are two angels holding a crown. From one side there is inscription: "You unbeatable emperor(Car), word of god, all ruler".
Museum of applied arts, Belgrade, inventory number 1120 and 1120A
Ref: B. Popovic,
Two sabres with Byzantine chants
, archaeological magazine XIII, Belgrade 1938 (author dates the objects earlier, however based on most recent finds from Romania we are dating them to XVI century).
"Post byzantine work" as a term is actually meaning "new art style of decorations in orthodox Christian countries", the style which is not made in greek workshops.
The difference between "Byzantine work" and "post Byzantine work" lies in different stylization of forms used for decorations (crowns, candelabras, virgin Mary, angels). That stylization came from the fact that decorations were not longer made in workshops of Greek towns Thessalonica or Constantinople, but in new workshops, in other orthodox Christian countries that are actually copying that "Byzantine work" style with it's own new styles of same before mentioned forms.
I hope my brief lecture helped you to better understand applied art on weapons of orthodox Christians, and if you have more questions feel free to ask, here is my Facebook page:
www.facebook.com/zimke.zlovoljni
I'd like to add, that during all this years of researching medieval balkan history, art and archaeology, my research was never biased and always checked, you will never see me posting about anything without me being almost sure it is correct information. I say almost since leaving a place for doubt is excellent for proper research. Unfortunately there are lot of people who jump to conclusions too early and make mistakes, not willing to admit mistakes, which is very bad for archaeology and science, you must never put your self in front of research. Bias and not admitting mistakes is a horrible thing!
Zimke
Source:
www.royalacademy.org.uk/