Post by Jack Loomes on Sept 3, 2014 3:52:26 GMT

Michael Tinker Pearce's name is embedded in the cultural movement of the modern revival of the medieval sword, but unlike many other sword makers he has never sought to copy medieval swords note for note from original examples and has always produced swords that are stamped with Michael's own style, and that is something I've always admired about his work. I've followed his work for years, having read through the back catalogued of
www.tinkerswords.com/
dozens of times, perusing the gallery of past works longingly, so to say I was happy when Michael agreed to do an interview for Sword-Site is an understatement in the extreme.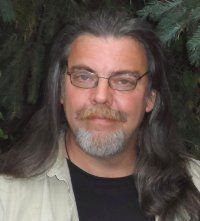 Perhaps some of Michael's best known work is through CAS Hanwei and their Tinker Pearce line which has sold incredibly well and continues to be among the best selling, if not the best selling, medieval swords in the modern world. Decades and centuries from now I can envision the Antiques Roadshow programs of the future informing visitors that their beloved heirloom sword is a CAS Hanwei Tinker Pearce sword and then explaining how remarkably popular this marque was, and going into some background about its designer Michael Pearce. Proof of just how popular these swords Michael has designed can be found in the number of sword makers using his swords as the building blocks of their own designs - much like Solingen blades were shipped all over the world to be hilted and cutlered in the local styles in the medieval period. ( CAS Hanwei's Tinker Line is available through Sword-Site Deals:
sword-site.com/board/45/sword-sites-sponsored-deals-upkeep
)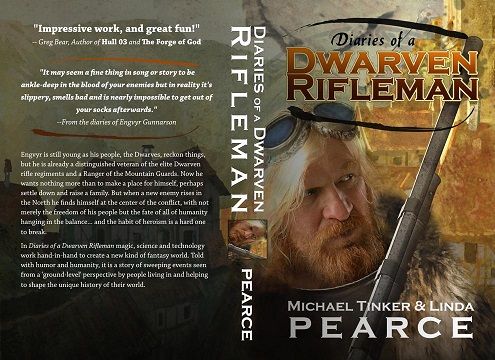 Lately Michael, along with his wife Linda, has put his hand to writing producing the excellent
Diaries of a Dwarven Rifleman
which is currently holding an impressive 4 out of 5 stars at Good Reads, and which is available officially through Amazon:
www.amazon.com/Diaries-Dwarven-Rifleman-Series-ebook/dp/B00BLO1DDC
Additionally Michael has penned the definitive modern sword maker's guide:
www.amazon.com/Medieval-Sword-Modern-World-Edition/dp/1481891472
- both of which I highly recommend.
Not only is Michael a well known polymath of the world of the sword and of literature but he is renowned as one of the truly good guys of the circles he moves in. A robust sense of humour and mirth can be somewhat lacking in the often deadly serious world of martial arts and weapons manufacture, but there is where Michael has always distinguished himself. Though Michael has a stature above and beyond almost all sword makers I have never known him to be one to use his stature in an unpleasant way, let alone at all. He is as approachable as they come. When Sword-Site was little more than a handful of entries Michael dignified my emails with a warm response, never ignoring my requests for him to join in on a particular thread or comment. Yet through the sword world makers without half his skill and talent let alone track record let themselves get all caught up in the adoration that comes along with being a success. Not Tinker, he is and always has been one of the true gentlemen of this world.
It is with great pride I now present to you my interview with Michael Tinker Pearce!

Bill: How old were you when you first realized you liked swords?
Michael:
I think that I was fourteen or fifteen. We'd started playing Dungeons and Dragons and we were curious what the weapons looked like so we went to the (very, very few) places that sold them and were fascinated.

Bill: What was it about swords, do you think, that grabbed your attention?
Michael:
They were just cool. The evoked romance, heroism and honor and let's face it, teenage boys are suckers for those things.
Bill: In what context do you see the sword?
Michael:
I am not sure how to answer this… it still evokes all the things it did when I was a teenager. They are also a beautiful example of form following function and an efficient and deadly weapon. At the simplest level they are just a tool for killing people; they are far too complex both in form and social meaning to isolate them to a single context.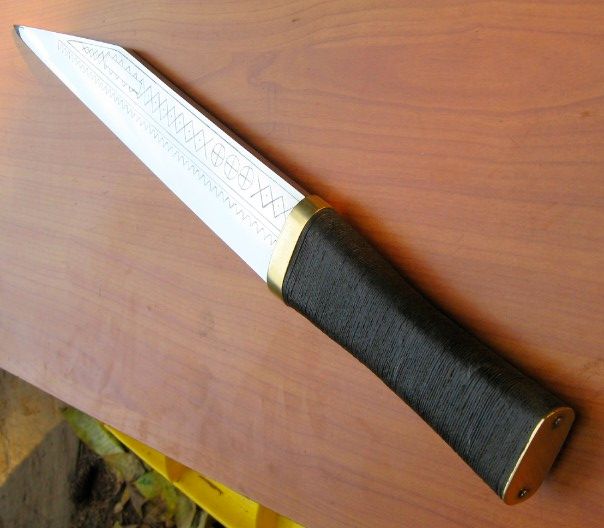 Bill: Do you have a favorite(s) swords for your own personal uses or style? (If so why?)
Michael:
If I had to narrow it down to a single type of sword it would probably be the European Longsword, though I am also very fond of Viking era swords. The longsword is a versatile, elegant weapon and something about the proportions just looks 'right' to me. One of the few swords that I actually own is a longsword, a modified Hanwei Tinker Line sword, in fact; I can't really afford my own work so I modified one of the production swords slightly to suit me and be more 'individual.' I changed the shape of the pommel a bit and added a rain-guard, replaced the leather on the handle and scabbard and gave the blade a more acute point. Of course I also have a blunt blade I can swap in for practice.
If I get the chance I'd like to make myself a lang-sax, mainly because they are such a rich canvas for decoration, and it would be nice to have one for Viking-Era educational demos.
Lately I've also been delving into medieval and viking-era axes. They are surprisingly elegant and handy when made properly.
Bill: Where would you like to see the sword sit in terms of the culture of western civilization in the years ahead?
Michael:
I'd like knowledge of swords and western martial culture to become more generally disseminated. For most of my life the stereotype has been 'martial arts' in eastern Asia and unskilled barbarians relying on brute strength in the west. Likewise the idea was that Japanese swords were almost magical and western swords were junk. The sword community is pretty hip to the idea that sword quality was variable in both east and west, with both excellent and junk swords- and everything in between- made in both regions. I expect as time goes by the general public will become used to the idea as well. Likewise I want to see historic European martial arts become more generally known to the public. One issue with this is swords- it's sort of the opposite of eastern martial arts. In most eastern arts you train extensively in hand-to-hand before weapons are introduced. Currently in HEMA the trend seems to be to study the weapons first, and hand-to-hand only as an afterthought. Fiore said that the foundation of all fighting is wrestling; if we miss out on that foundation and skip straight to the 'fun bits' I think we are short-changing ourselves and ignoring an important part of our own martial heritage.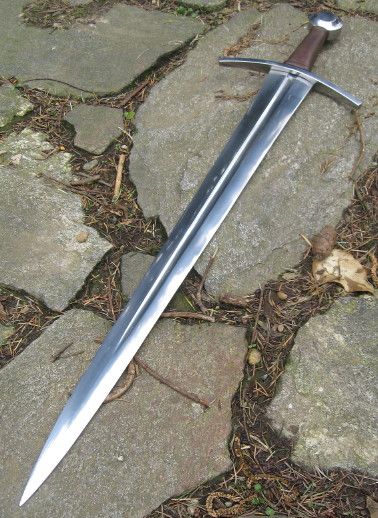 Bill: Do you see the sword as an obsolete or relevant weapon in the modern world?
Michael:
Yes. The term 'sword' takes in a lot of territory. Medieval European swords are mostly obsolete as combat weapons. This doesn't mean that they are ineffective, merely that we've devised more efficient ways of killing each other. However swords of some description are still in use. I have heard of Spec-Ops troops using a combination of flash grenades and short 'tactical' swords and modern tomahawks to clear caves of insurgents in Afghanistan when gunfire would have been problematic. There will probably be at least a limited use for swords for as long as people are trying to kill each other. Relevance is a different question than obsolescence however. A short sword is a very useful tool in the field if properly designed, and a lot of soldiers take special pride in their edged weapons. It isn't just a useful tool and weapon; whether it is an officers 'regulation' dress sword or a grunt's tactical short-sword it symbolizes a commitment to their nation, their service and their adherence to the ideals of a warrior ethic. In this sense the sword remains as 'relevant' as ever.
Bill: Do you have a favourite film in which the sword is depicted?
Michael:
I love the 1974 version of 'The Three Musketeers.' I thought the sword-play, as rough as it was, was highly entertaining and probably more accurate than many movie depictions. The duel at the end of 'Prince Caspian' was very well done also. 'Ring of Steel' had some very good movie sword-fighting… easily worth putting up with the rest of the movie to see.I don't think that I've ever seen swordplay portrayed accurately in a film. There's only so much realism that you can show in a film or TV program; real sword-fighting is not exciting or dramatic enough for the general audience. Theatrical sword-fighting is an art all it's own and worthy of respect, but it usually bears only a passing resemblance to real fighting.
Michael designed the beautiful CAS Hanwei Tinker Line, one of the world's best selling lines of Medieval swords.
Bill: Why do you prefer the sword over other weapons?
Michael:
I don't know that I do prefer them to other weapons. When asked 'what is the best sword for self-defense?' my usual answer is 'A service-caliber handgun with good hollowpoint ammunition.' Each weapon has it's place and purpose and it's own unique appeal. Swords hold a special place in my heart but that place is only tangentially related to the fact that they are weapons.

Bill: For how many years did you have to practice your sword making art before you felt truly satisfied with the results? Or were you always happy with the results from the beginning?
Michael:
I was always happy with the results, but not truly satisfied. I always want to improve my skill as a maker. Of course as my understanding of swords has evolved over the years so have my standards. I would not be as happy with my early swords as I was when I made them, and 'satisfaction' remains a moving target.
Bill: What other pursuits or life interests has the study of the sword led you to?
Michael:
A lot of things, really, and not just historic Martial Arts. I discovered that the sword cannot be studied in isolation. It has to be studied in context, which led to a deeper understanding of history and how people lived in the past. This led me to the SCA, Ren Faires and Camlann Medieval Fair, which has brought many fine people into my life. Other crafts too; I've made medieval shoes, purses and pouches, buckles and fasteners, axes, spears and polearms. I pursued traditional archery in a way that I would not have otherwise, even made a longbow (with appropriate assistance.) It even led me, by a roundabout route, back to writing fiction.
Bill: Do you feel the that having the sword in your life, perhaps as one of your life's main focusses has changed you for the better?
Michael:
Ummm… see above? Making knives and swords and spreading the knowledge that I gained in doing so was a dream of mine, and I got to live that dream.
Bill: When you make swords what motivates your design and work processes? What do you want to make sure each sword does? For instance cut well, balance a certain way, look a certain way etc.
Michael:
Each sword type was designed for a different purpose, to fill a different need. I want each and every sword to do what it is supposed to as well as possible, whether it is a rapier or a two-hand sword.