Post by Jack Loomes on Jul 2, 2014 11:25:47 GMT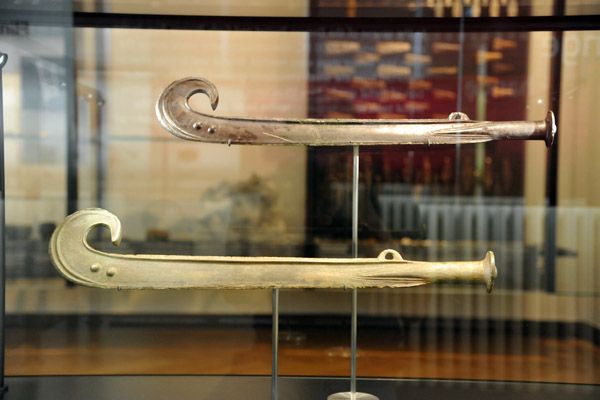 Length c. 50 cm.
In 1952 Thorvald Nielsen was dredging a ditch in a small bog at Rørby in western Zealand. He found an ornamented curved sword of bronze that had been stuck diagonally into the turf. The sword was from the beginning of the Bronze Age, around 1600 BC, and was the first of its kind to be found in Denmark. It was handed in as treasure trove to the National Museum, but the story does not end there. In 1957, when Thorvald Jensen was digging up potatoes around the same place, he uncovered yet another curved sword. The second curved sword was ornamented like the first, but it was also decorated with a picture of a ship. This is the oldest example of a ship image from Denmark.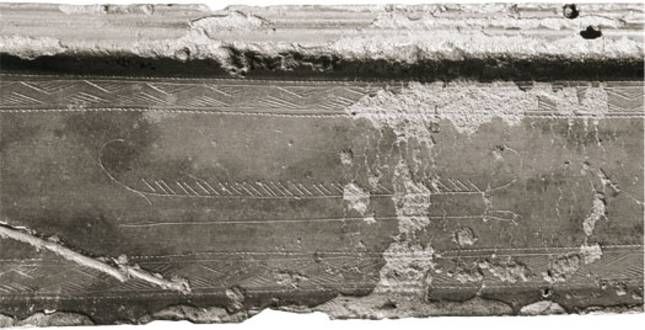 At the beginning of the Bronze Age – around 1700 BC – a rich visual art arose in Scandinavia. The most common motif was the ship. On one of the two ceremonial swords from Rørby in western Zealand we see for the first time one of the Bronze Age ships sailing off. The ship had a tall, inward-curving prow and stern. The crew are shown as lines. The custom of depicting ships spread quickly over a wide area. Similar ships were carved into stones. Rock carvings with the ship as a motif have been found on Bornholm. In Sweden they have also been found in Scania in the south and occur as far north as Uppland, with the northernmost examples located in the Trøndelag region in Norway.
The curved sword from Rørby can be dated to the time around 1600 BC, and the ship image is thus one of the oldest known. The slender ship has a tall curved prow and stern, with keel extensions both fore and aft. As in the Bronze Age rock carvings, the crew on the ship are drawn as diagonal lines. There are 31 in all, with the head marked as a small dot. Perhaps the form of the curved sword itself also imitates the prow of a ship?
The curved swords were very valuable, partly because a good deal of bronze had to be used to make them. Bronze is a mixture of metals – an alloy of copper and tin. It is not possible to mine these metals in the Danish landscape. So in the Bronze Age people were dependent on imports from abroad if they wanted bronze. The supplies could for example come from the Atlantic coast or the eastern Alpine area. There were natural copper deposits in these areas that could be used to make bronze. We must suppose that the costly metal came to Denmark via a well-developed exchange network.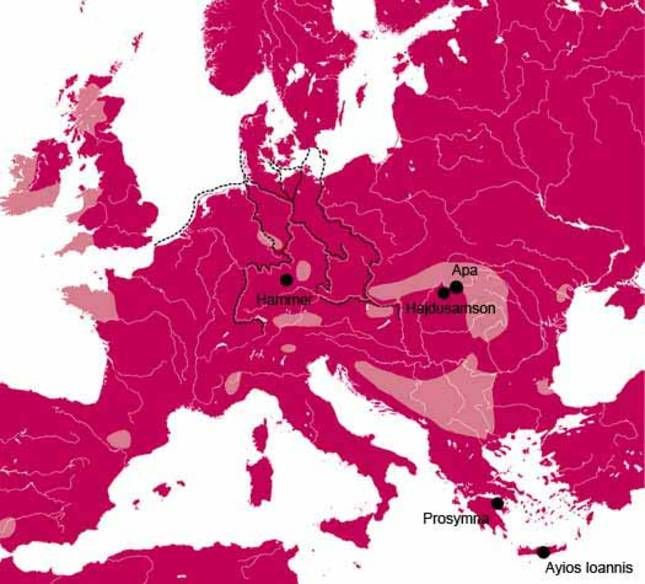 Map showing trade routes from central Europe to Denmark. The light areas show the deposits of copper, tin or gold.
Source:
natmus.dk/en/historical-knowledge/denmark/prehistoric-period-until-1050-ad/the-bronze-age/the-roerby-swords/