Post by Jack Loomes on Mar 21, 2014 10:39:09 GMT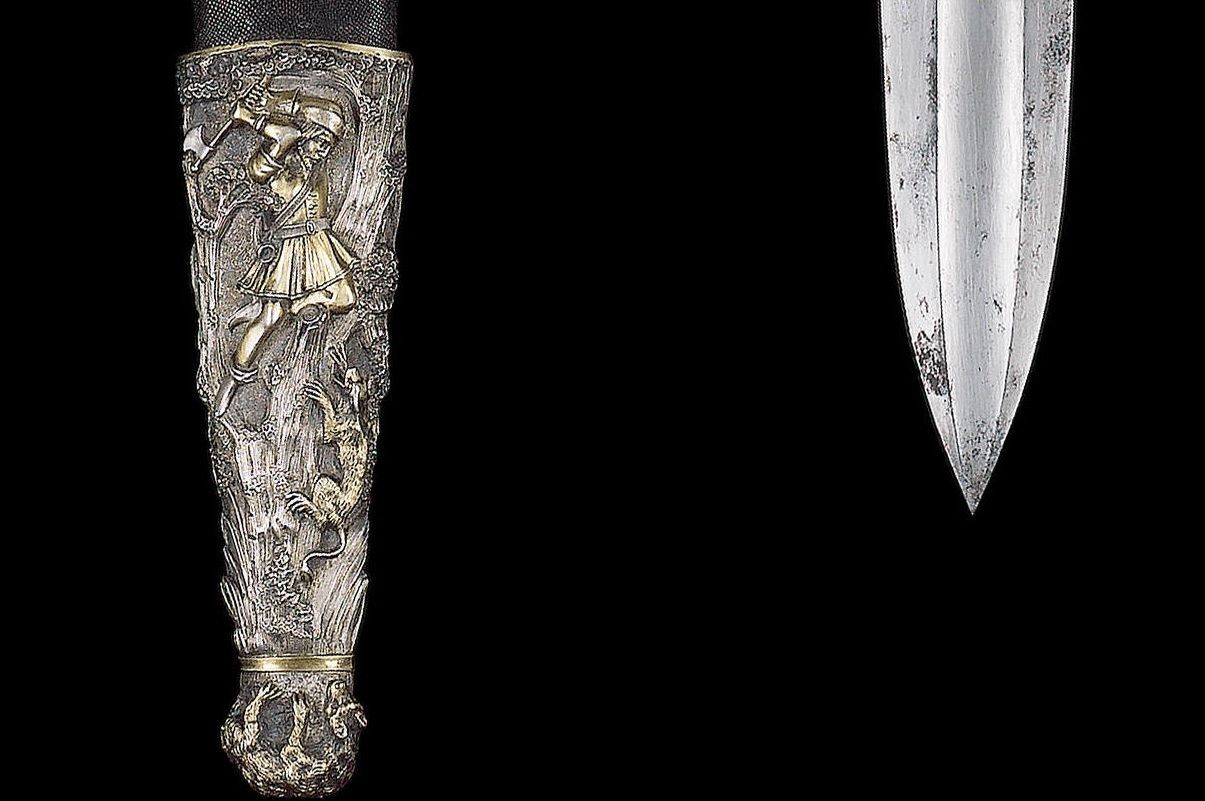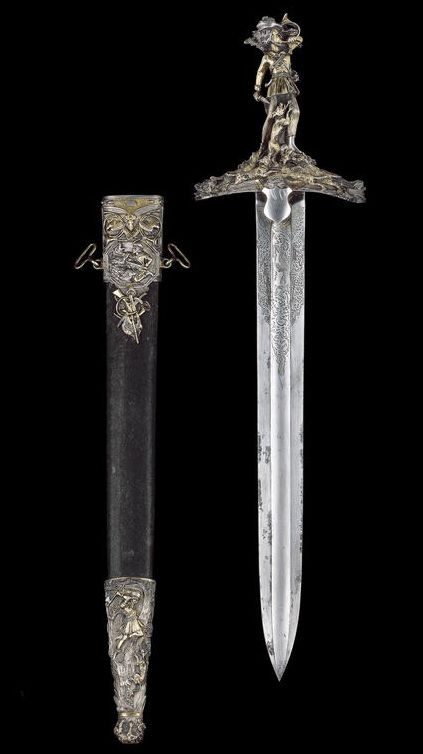 St. Petersburg Silver Marks For 1851 And Standard Mark 84, Maker's Mark Of Karl Tegelsten, Assaymaster's Mark Of Aleksandre Mitin.
With broad watered double-edged blade (minor areas of rust staining) with central fuller over its entire length on each side, the forte etched on each side with a shaped panel of bright scrolling foliage centred on a hind and fawn in a landscape on one side, and a stag pursued by a hound on the other, all against the traces of a gilt ground, the ricasso signed by the bladesmith 'A. Stribrny, Wein', silver parcel-gilt hilt cast and chased in the round as a huntsman in medieval costume standing against an ivy-clad tree blowing his hunting horn and holding a dagger, his baying hounds at his feet on one side above a vacant shield-shaped escutcheon, a dead boar, stag and heron on the other, in original wooden scabbard covered in fine black shagreen with silver parcel-gilt locket and chape, the former cast and chased in low relief on each side with a huntsman grasping a bear by its neck and stabbing it with his sword, within an octagonal frame surmounted by two birds of prey each perched within a hunting horn, a sporting trophy suspended beneath, the latter with a huntsman half kneeling in a tree and defending himself against a wolf with his axe, a crouching wolf forming a finial beneath, two loops for suspension, and retaining nearly all its original gilding.
40.7 cm. blade
Karl Tegelsten supplied silverware for the famous St. Petersburg firm of silver retailers Nichols and Plinke, know as the Magazin Anglais ('the English shop'). Founded by two Englishmen Constantine Nicholas and William Plinke who were granted Russian citizenship in 1804, the firm was active between 1829 and 1870 supplying the aristocracy and the Imperial Court. It was one of the most exclusive shops in Russia and before Fabergé had established his reputation the firm was considered to be the leading retailers of luxury goods. See Alexander Ivanov,
Gold and Silversmithing in Russia
1600-1926, vol. I, p. 450
For a similar hunting sword of circa 1847 and formerly in the collection at Tsarskoe Selo, see Tsaarien Metsästysloistoa: Metsästysvälineitä Eremitaasin Museon Kokoelmista 1700- ja 1800-luvulta, published by the Finnish Museum of Hunting, n.d. (1994), pp. 20 and 27, illustrated in colour.
Source:
www.bonhams.com/auctions/13598/lot/292/