Post by Jack Loomes on Jan 21, 2014 14:03:16 GMT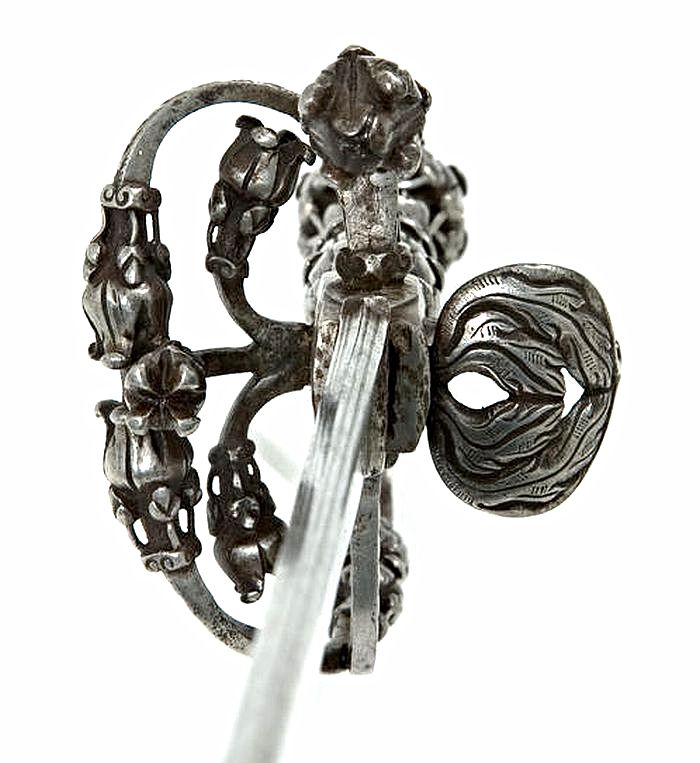 Dated: circa 1650 — 1660
Culture: Western European
Measurements: overall length, 96 cm; blade length, 79.3 cm; blade width, 2.3 cm; hil length, 17.5 cm; hilt width, 11 cm
Inscriptions: "IVNTILIA NUS ROM", "MEFECIT SOLINGEN"; "PARIS TRO" and "ENGEL LOBAG"
Provenance: Mr James Stewart Henderson of 'Abbotsford', Downs Road, St Helen's Park, Hastings, Sussex
The sword has a tall poppy-head-shaped pommel with a well-formed button of steel carved into the likeness of the opening petals of a flower with diagonally worked tendrils with eight trefoil heads above a neat scrolled collar. The grip of steel, widening slightly towards the back, is decorated in the same manner as the pommel. The knuckle-guard, of square section at top and bottom, comes with two opposed swellings at midpoint to match the pommel.
There is a single outside loop-guard of the same form and decoration as the knuckle-guard, enclosed within it is a triple-branched interior guard in the same style, the middle branch extending downward to protrude below the loop-guard. The sword has a massive rear quillon, sharply downturned at a right-angle, with a large terminal loop en suite with the pommel.
At the back there's a looped thumb-ring attached to a small decorative plate springing from the back of a very stout quillon-block of square section. This plate is decorated with four flame-shaped leaves carved à jour from the plate. The straight blade of triangular section, had its faces hollowed and back ridged. The cutting edge is wrought to an acute point by a gentle curve toward the perfectly straight back.
The blade is decorated with delicate engraving; on the obverse a series of geometric 'doodled' forming a base to support an extremely thin classical figure, helmeted, plumed and carrying a walking-stick or yard. Above this is the legend IVNTILIA NUS ROM between scrolls. Above, a pestle and mortar with the words MEFECIT SOLINGEN between similar scrolls. The design is topped by an elaborate floral scrolling motif.
On the reverse, there's a similar geometrical base supports a second figure in classical dress in an airy dancing pose holding aloft a sword in the right hand. Between scrolls, lies the words PARIS TRO, with a pestle and mortar above, with a second legend ENGEL LOBAG, with the terminal designs of the obverse repeated. The sword is a Norman, type 108 while the pommel is a variant of pommel type 28.
Source:
www.fitzmuseum.cam.ac.uk/