Post by Jack Loomes on Dec 13, 2013 8:39:07 GMT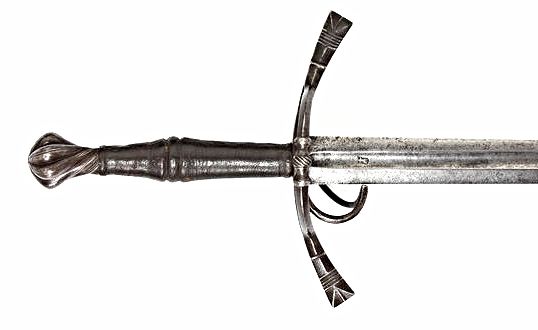 This sword, gripped in both hands, was a potent weapon against armour before the development of firearms.
To fully appreciate the sword's meaning to the sixteenth-century gentleman, it is important to understand its double role as both offensive weapon and costume accessory. The art of combat was an essential part of a nobleman's education. Sigund Ringeck, a 15th-century fencing master, claimed knights should "skilfully wield spear, sword, and dagger in a manly way." By the 1580s the sword had evolved into an elaborate costume acccessory, although it was still a lethal and often used weapon for self defence.
The seeds of this development were sown long before and this 'hand-and-a-half' sword for use in foot combat carries an early sign. Held either in one or both hands, and also known as a 'bastard' sword as its grip was not as long as a traditional two-handed sword, it can be dated to around 1500 based on the decoration of its hilt. The rounded ends of the crossbars (quillons) are quite flimsy while the finely chiselled pommel recalls the swirling lobes that decorated contemporary flagons and candlestick stems. This appearance demonstrates a move away from the brutal simplicity of the medieval sword.
No part of a medieval sword was made without both attack and defence in mind. Modern fencing encourages us to see the blade, in fact only the tip of the blade, as the sole attacking element of a sword and the hilt more as control room and protector. Tight rules prevent the sword hand ever straying from the hilt and the spare hand from getting involved at all. The fifteenth-century Fightbook published by the German fencing master, Hans Talhoffer, illustrates a more pragmatic approach as two fashionably dressed men settle their differences using undecorated swords with thick diamond-section blades. The blades could be gripped as well as the hilt. The rounded pommels at the end of the grip and at the ends to the quillons not only balanced the swing of the sword but acted as hammerheads to deliver the 'murder-stroke'. As soon as these elements ceased to be functional they took on the role of adornment. This sword hints at the more decorative hilts produced later in the century.
Physical description
The hilt of cut and blackened steel, with a pommel decorated with spiral chiselling, and a two stage grip with serpentine guards extending forward into simple guard loops in front of the quillons. The quillons are chiseled and curved with flared ends. The blade is long with a single central fuller extending approx two thirds of the way down the blade, with a stamped mark near the hilt.
Place of Origin
Germany (made)
Date
ca. 1510 (made)
Artist/maker
Unknown (production)
Materials and Techniques
Forged and partially blackened steel, chiselled
Marks and inscriptions
Maker's mark: a cross on a star
Dimensions
Height: 119.7 cm blade, Width: 22.9 cm, Depth: 10.9 cm, Weight: 1.1 kg
Object history note
This sword was acquired by the Museum from the Major Victor Farquharson Bequest in 1927. Its provenance before this is unknown.
Descriptive line
Steel, the blade forged and the hilt cut, chiselled and partly blackened, Germany, ca. 1510
Bibliographic References (Citation, Note/Abstract, NAL no)
Victor Harris et al,
Swords and Hilt Weapons
(Barnes and Noble Books, New York, 1993), Ch. 4
General history and similar examples
North, Anthony,
An Introduction to European Swords
, Victoria and Albert Museum, HMSO, London, 1982, ISBN 0 11 290378 9
General history and similar examples
Blair, Claude,
European and America Arms c.1100-1850
, B.T. Batsford Ltd., London, 196
Genreal history and similar examples
Stone, George Cameron,
A Glossary of the Construction, Decoration and Use of Arms and Armor in All Countries and in All Times
, Jack Brussel, New York, 1934, pp. 182-183
For general history and comparison
Patterson, Angus,
Fashion and Armour in Renaissance Europe: Proud Lookes and Brave Attire
, V&A Publishing, London, 2009, ISBN 9781851775811, p. 65, ill.
For more information on Oakeshott Type XVII Swords see this extract from Ewart Oakeshott's
Records of the Medieval Sword
: sword-site.com/thread/175/oakeshott-type-records-medieval-sword
Source:
collections.vam.ac.uk/item/O97450/hand-and-a-unknown/