Post by Jack Loomes on Dec 7, 2013 13:35:59 GMT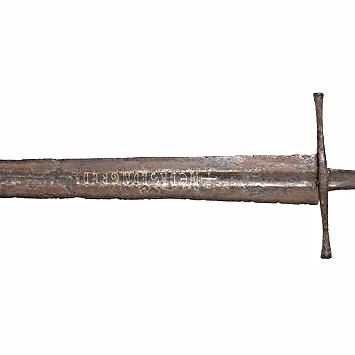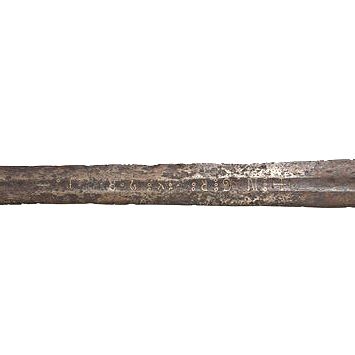 Physical description
Sword, the long double-edged blade constructed of two parallel pattern welded rods to give a shallow concave medial fuller which is decorated with an inlaid talismanic inscription in latten letters on both sides. The hilt no longer survives, only the tapering tang which is hammer welded to a globular, roughly hammered disc-shaped pommel with bevelled edges. The plain quillon is straight with circular section terminals flaring slightly outwards at the tips.
Place of Origin
England, Britain (made)
Date
1250-1300 (made)
Artist/maker
Unknown (production)
Materials and Techniques
Steel, pattern welded and inlaid with latten
Marks and inscriptions
'+N.C.R.O.X.W(?).R.E.F.-'
'+N E D A S E D N G R E D A-'
Dimensions
Length: 104.3 cm whole, Length: 16.3 cm hilt, Length: 88.0 cm blade, Width: 18.5 cm quillons, Depth: 3.8 cm pommel, Width: 5.8 cm top of blade, Weight: 0.94 kg
Object history note
This sword was found in Whittlesea Mere, Cambridgeshire, in the 1840s (in the same vicinity as the Ramsey Abbey incense boat M.269-1923). It was first loaned to the Museum in 1951 by Mr George H. Bird. The original lender has died and all attempts to contact the family have been unsuccessful. The sword was written on in 2002.
Historical context note
Swords have always been high status objects used as symbols of authority as well as for warfare and sport. Swords often accompanied a warrior to his grave. This style of sword derived from the broad straight swords of the Celts and Vikings, consisting of a long, two-sided blade balanced by a pronounced pommel and straight quillons (cross-bars on the hilt) to guard the hand, with a grip of wood bound with leather or cord. No trace of the grip on this sword remains, only the core steel tang reaching to the pommel.
The medieval sword was at first designed as a cutting weapon but by around 1300, when this sword was made, narrower, pointed blades emerge in order to pierce the new plate armours. The medieval knight used a shield or armour for defence so that swords were designed almost entirely for offence to be wielded one-handed on horseback. Longer grips emerged after 1250 so that the sword could be held with two hands in foot combat and the quillons started to curve towards the blade as a form of defence for catching an opponent's blade. The earlier wheel shaped pommels were also replaced conical or oval ones.
Swords are frequently portrayed in manuscripts making it possible to trace their evolution after about 1250. The armouries in Dresden and Vienna contain many medieval swords in excellent condition. Battlefields are a disappointing source for the discovery of swords implying that swords were highly prized and expensive.
Descriptive line
Sword with straight quillons and a wheel-shaped pommel, English, 1250-1300, recovered from Whittlesea Mere, Cambridgeshire in the 1840s
Bibliographic References (Citation, Note/Abstract, NAL no)
North, Anthony,
An Introduction to European Swords
, pp. 6-7, Fig. 1
Blair, Claude,
European and America Arms
c.1100-1850, B.T. Batsford Ltd., London, 1962, pp. 1-5 and fig. 19
Coe, Michael D. et al,
Swords and Hilt Weapons
, Barnes and Noble Books, New York, 1993, ISBN 1-56619-249-8, p. 38
Dufty, Arthur Richard,
European Swords and Daggers in the Tower of London
, HMSO, London, 1974
For more information on Oakeshott Type XII Swords see this extract from Ewart Oakeshott's
Records of the Medieval Sword
:
sword-site.com/thread/127/oakeshott-type-records-medieval-sword
Source:
collections.vam.ac.uk/item/O67956/sword-unknown/