Post by Jack Loomes on Dec 4, 2013 11:46:03 GMT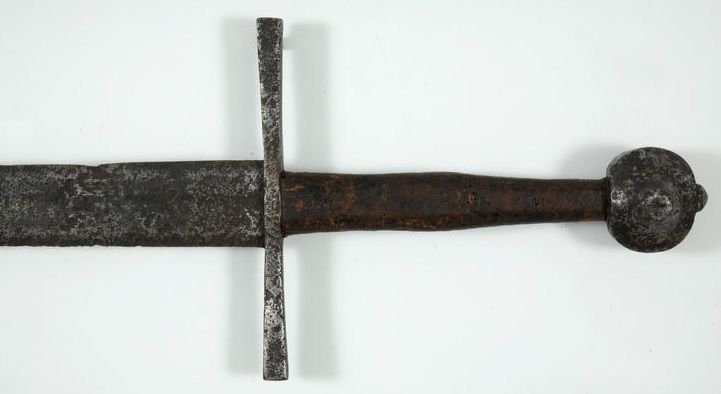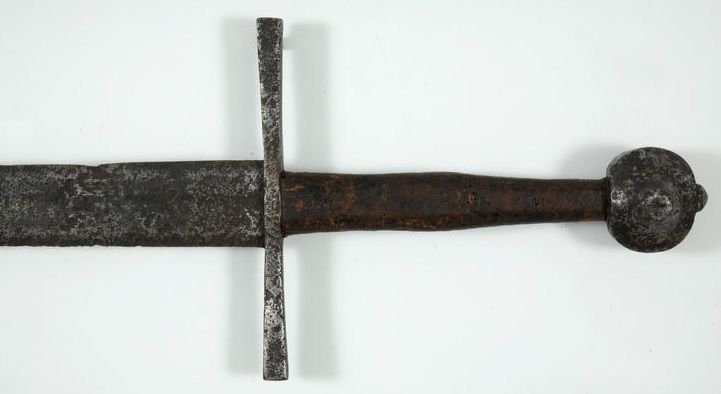 Date:
circa 1250 — 1350
Period:
13th/14th Century
Description:
Hand-and-a-half sword or bastard sword. ('Great sword', or 'War Sword', or 'Great Espee d'Allegmagne'). Type XIIIA. Very deep wheel-shaped pommel with very small central boss, with a cross (once inlaid with latten or copper) or incised on one face. Long tang, with restored 19th century grip. Straight cross of rectangular section widening toward the tips from broadened midpoint. Long, heavy blade, tapering very slightly with a wide shallow fuller running two-thirds of its length.
Production
Place (legacy):
Germany, production, country
Production
Note:
Big hand-and-a-half swords of this kind were very popular, according to many literary reference and much pictorial and monumental evidence, during the century 1250-1350, though it is now known that they were in use at least a century earlier. The fact that contemporary writers referred to them as 'Grans Espees d'Allemagne' (Great swords of Germany), and that German monumental sculpture shows very many of them, does suggest a German tendency. However, they are also shown upon very many Spanish effigies of the same period. There are also many 13th and early 14th century references to 'Espees de Guerre', 'Swords of War', 'Schlachtschwerte' and so on to distinguish them from the smaller kind of sword ('Arming Sword' in 15th century English) and to set them apart for their prime use as battle-swords. They are not to be confused with two-handed swords. A sword of the same dimensions with a similar hilt, including the cross in the central boss of the pommel, is on the tomb-effigy at Bopfingen in Wurttemburg, dated 1359, and there are others in Germany, Spain and England, all dating between c.1320-1360, too numerous to mention individually.
Technique(s):
casting (process); whole
inlay (process); decoration
incising; decoration
Material(s):
steel; whole
copper; inlay; or latten
leather; bound tang
wire; bound tang
Technique
Description:
sword, cast, with either inlaid copper or latten decoration, or incised cross decoration
Dimension(s):
length, whole, 115.0, cm
length, blade, 89.5, cm
width, blade at hilt, 4.9, cm
width, grip, 28.5, cm
width, cross, 30.5, cm
diameter, pommel, 6.0, cm
depth, pommel, 15.0, cm
weight, whole, 1.40, kg
Acquisition:
bequeathed; 1933-03-16; Henderson, James Stewart
Provenance:
Sold at the Helbing Gallery at Munich 1908
Inscription(s):
mark; traces of marks in the fuller, inlaid in copper? or latten?
tag; 188H
Documentation:
Laking, G.F.. 1920-22.
A Record of European Armour and Arms Through Seven Centuries
.London?:
Cf.
Oakeshott, R. Ewart. 1964.
The Sword in the Age of Chivalry
.London?: Lutterworth
Cf.
Muller, Heinrich. Kolling, Hartmut. 1984?.
Europaische Hieb und Stichwaffen: aus der Sammlung des Museums für Deutsche Geschichte
.
Cf. plates 159, 162, 167 and 168
Accession:
Object Number: HEN.M.188-1933
(Applied Arts)
(record id: 18827; input: 2001-01-25; modified: 2012-03-20)
Permanent Identifier:
data.fitzmuseum.cam.ac.uk/id/object/18827
For more information of Oakeshott Type XIIIa Swords see this extract from Ewart Oakeshott's
Records of the Medieval Sword
:
sword-site.com/thread/152/oakeshott-xiiib-records-medieval-sword
Source:
www.fitzmuseum.cam.ac.uk/explorer/index.php?qu=sword%20OR%20pommel&oid=18830