Post by Jack Loomes on Nov 28, 2013 6:36:35 GMT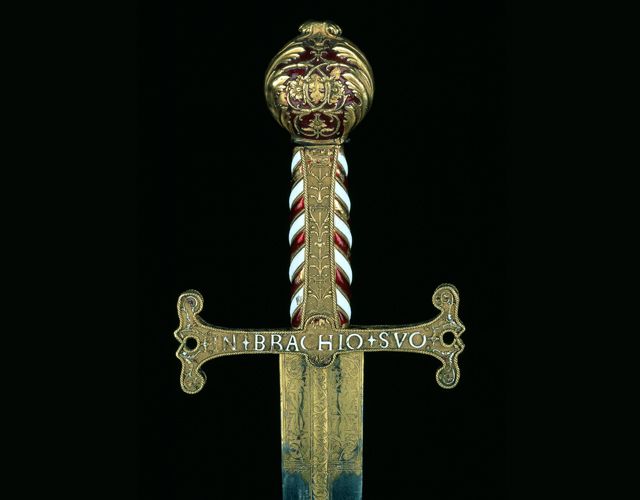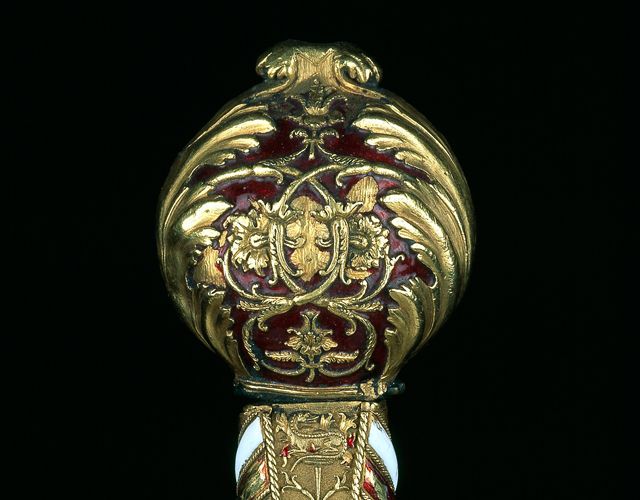 *Editor's Note: The below is provided in raw form following digital translation via Google Translate from the original French.
This ceremonial weapon probably accompanied the king of France Francis I (1494-1547) during the campaigns in Italy, until the capture of the monarch by the Imperial after the battle of Pavia, 24 February 1525. This defeat, which ended the sixth war Italy (1521-1526), ​​marked the end of French territorial claims on the Peninsula. Francis was forced to sign the Treaty of Madrid in 1526 and so lets provisionally free rein to the Emperor Charles V (1500-1558).
Extremely sumptuousness, this ceremonial sword - even medieval building - has a signed furbisher Cataldo Italian blade, which was made ​​thirty years before the guard (picture 2). On the latter is carried at the quillons a verse of the Magnificat: "FECIT POTENCIAM / IN Brachio OUA," which means "In his arms, she gave the power." Salamander, personal emblem of the sovereign, is found in several parts of the blade and guard, but no royal crown indicates that the piece is prior to the advent of the one King Knight were nicknamed January 25, 1515.
The pommel is decorated with acanthus leaves gold (picture 3), while the twisted handle is largely glazed. Ornate also, the blade is flat with a central gutter. Heel, there is an emblem of Francis I, a folded 8 skein which also appears on a pair of calipers at the Musée de la Renaissance Ecouen (additional item).
Date: Between 1480 and 1515
Author: PA Cataldo for the blade
Materials: Iron, brass, gold, vermeil and enamel
Techniques: Gilding, engraving, embossed and enamel
Place of creation: French Job Care
Italian Job for the blade
Height
(Width)
: 0.14 m
Width
(Length)
: 0.96 m
Weight: 1.22 kg
No inventory: J 376
History: Taken as a booty by Colonel Juan mayor Italians Aldava tent Francis I after his capture at the Battle of Pavia 25 February 1525. In 1585, the son of Juan Aldava gives the sword to King Philip II of Spain against an annual pension. The weapon was recovered at the Armeria Real Madrid by Marshal Murat in 1808 on the orders of Napoleon who then kept in his study at the Tuileries until his abdication in 1815. Exhibited at the Museum of the Sovereign in 1852, it is paid at the Museum of Artillery June 29, 1872.
Location in the museum (room name, no storefront): Department Old room, Louis XIII, Italian Wars - showcase 54-03
For more information on Oakeshott Type XVI Swords see this extract from Ewart Oakeshott's
Records of the Medieval Sword
:
sword-site.com/thread/167/oakeshott-type-records-medieval-sword
Source:
www.musee-armee.fr/