Post by Jack Loomes on Nov 23, 2013 13:01:53 GMT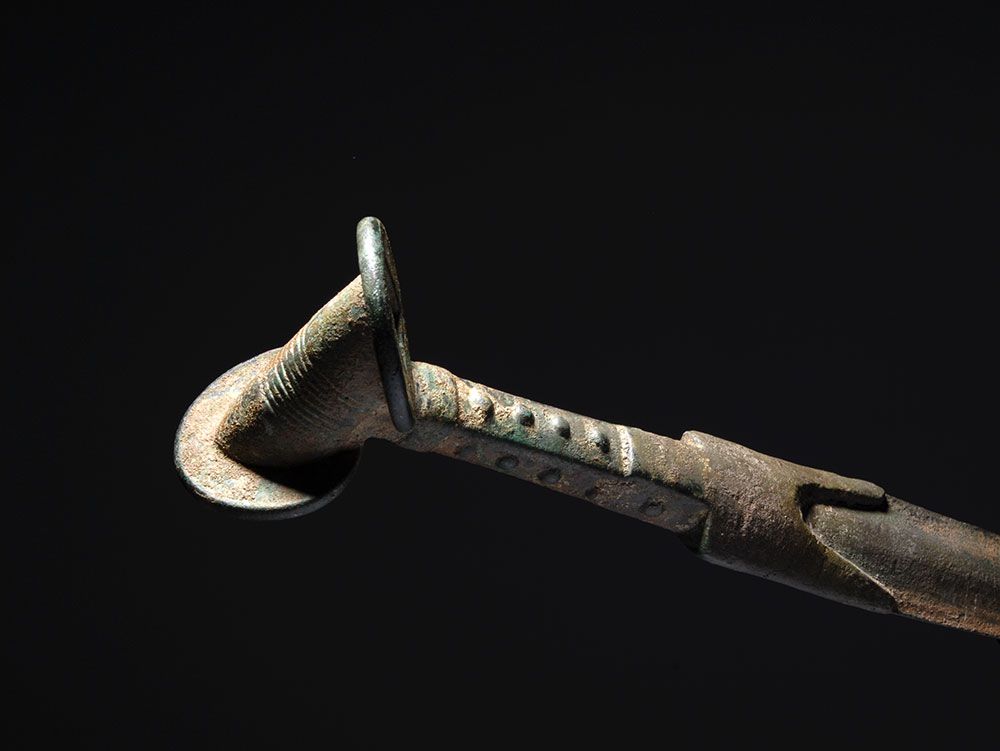 *Editor's Note: This sword design influenced Chinese styles (and through the Chinese Jian the Japanese Chokuto & Ken) and Western European sword design and was spread widely across Eurasia by Iranian speaking tribes. The hilt with its distinctive ear pommel directly influenced the much later Turkish Yataghan hilt and Western European Ear Dagger styles.
Near Eastern Bronze Age cast bronze sword, dating to approximately 1000 - 800 B.C.
This imposing weapon was expertly produced to inflict devastating injuries upon those who faced it. With a ridged and flattened mid-rib, the long blade is perfectly weighted to be used in a slashing motion. This piece also has a striking aesthetic quality; the hilt features a dotted motif over the square sectioned grip, whilst the decorative, double eared pommel has been recessed to hold decorative bone or wooden inlays, providing a strong counterbalance.
This piece, a particularly large example, was produced by the expert bronze working society known to us as the Luristans, and would have originally formed part of the burial contents of an elite Persian warrior. These individuals often served as mercenaries in the service of rulers in the lowlands of Mesopotamia.
The ancient inhabitants of mountainous Luristan were pastoralists and would have followed an annual cycle of migration between their warm low-lying winter pastures and the high cooler summer grazing grounds. Their production of these remarkable bronze artifacts for which ancient Luristan society is primarily known took place largely during the winter months, when the low lying valleys were packed with their tented encampments. The Assyrian king Sennacherib's account of a campaign in Luristan territory vividly illustrates how the land would have been full of these temporary settlements:
"And their settlements which were numberless, I destroyed, I devastated, I turned to ash. The houses of the steppe, namely their tents, wherein they dwelt, I set on fire"
A powerful piece of ancient near eastern weaponry, expertly produced by an adaptable and fierce society.
Length of weapon: 34 1/2 inches.
Condition: Very good, blade has been reattached to the hilt, as is often the case with weapons of this type. The piece is not deformed, in contrast to the majority of weapons of this type now available on the market.
Provenance: Ex. US private collection, acquired 1990's.
Source:
www.artancient.net/servlet/the-6714/Ancient-Near-Eastern-Luristan/Detail