Post by Jack Loomes on Nov 21, 2013 16:14:58 GMT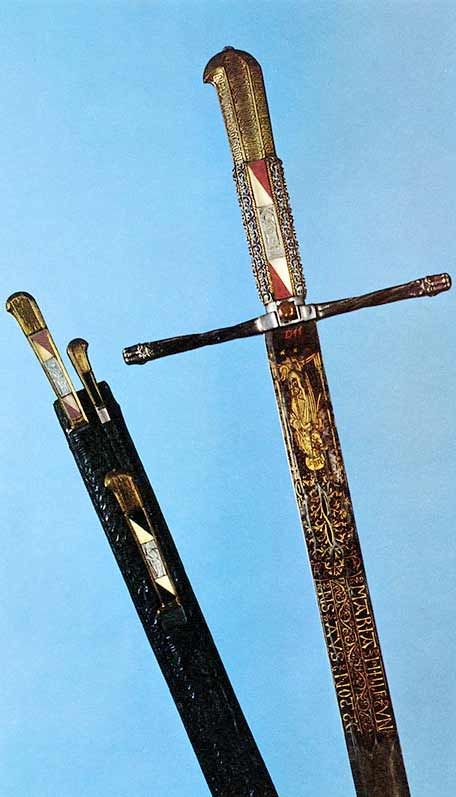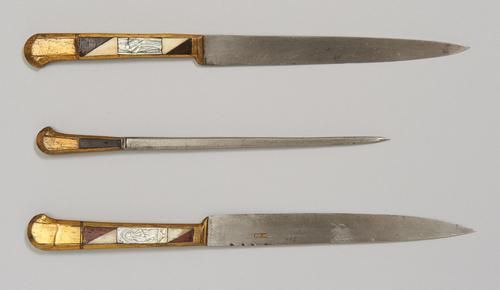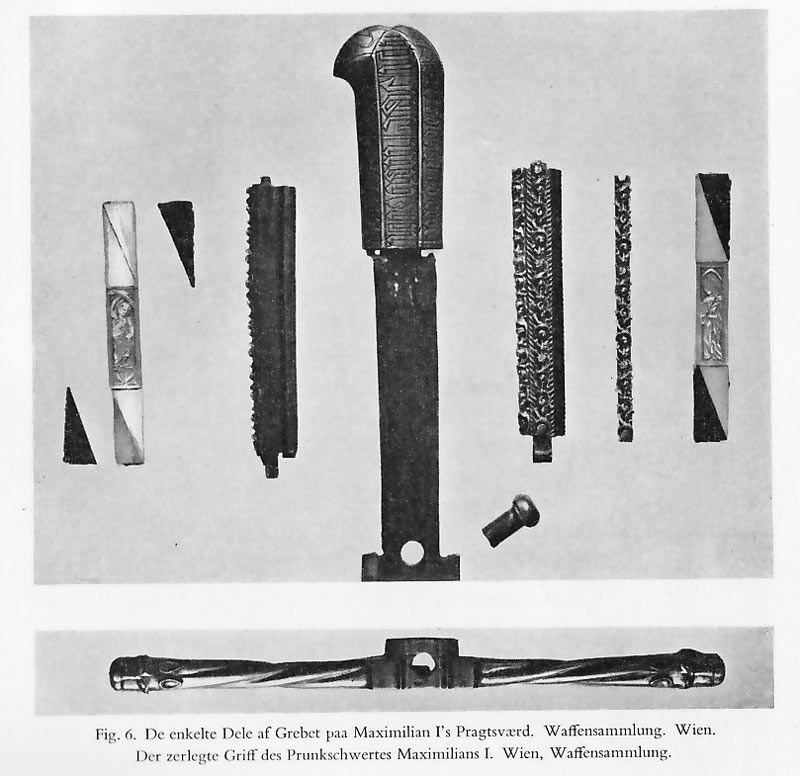 *Editor's Note: Below is digitally translated from the original German by Google Translate.
Manufacturer: Hans Sumersperger, (Cutler) from 1492 to 1498 in Hall / Tyrol
Owner: Archduke Maximilian I, son of the later Emperor Frederick III. of Hapsburg 1459 - 1519
Sword forged blade iron, partially blued and gilt. Handle engraved, (perhaps former) fire-gilt brass, wood core with layers made ​​of brass, cast silver, bone, wood and cut mother of pearl. Guard of polished wrought iron, partially cut.
Waidmesser: iron, fire-gilt brass, partially hallmarked. Deposits from leg, cut mother of pearl, wood.
Sheath: Dark embossed and cut leather.
Total: L. 106.5 cm, W 24 cm
Blade: L. 85 cm
Sheath: L. 84.5 cm, W. 4.5 cm
leg diameter: L. 26 cm, width 2 cm
Blade inscription: ". MARIA.HILLF.VNNS.AVS.NOTTG" or on the other side "HILFF.SANNDT.SEWASTTIANN" vagina inscriptions "maria" or "Helpful maria"
Brand
: Hanns Sumersperger
former Inv HJRK_G_495
Kunsthistorisches Museum Vienna, Arms and Armour
Inv HJRK_D_11
Description
:
The cast brass, gold plated bird head pommel contributes to six of its eight faces an engraved inscription in Gothic minuscule, of which only the first and the third line of the front as "Mary, help us out of trouble" could be resolved. Also fill the octagonal handle on the main pages gusset rosewood and ivory. In each center is a carved figure of a saint Perlmutter, probably Barbara and Catherine. At its side edges adorn the handle narrow, silver cast strips of leaf and vine work. Turned straight and helically cut the iron quillons with dogs' heads on the ends. The faceted, largely single-edged blade is decorated on the upper third with gold enamel on a blue background. On the front of the Virgin Mary standing on the moon, she has set foot on the snake. Above her stands a thin Astwerkbaldachin on small columns. It follows a two-line Majuskelinschrift with lush plant Rank in between: ".. MARY HELP UN / NS AVS NOTTG...." On the opposite side is also under a canopy, St. Sebastian. He is tied to a tree stump and pierced by arrows. The two-line inscription reads: "HILLF SANNDT / SEWASTIAN..." The mating ornate scabbard, when the two small eaters and Awl (Sharpener) are inserted, is made of cut and pressed leather. The date of 1496 is derived from the garnish moderately associated, so-called feudal sword of the Secular Treasury of the Kunsthistorisches Museum (Inv. No. SK_WS_XIV_4), whose blade is also in gold enamel on a blued background remains the master signature, the date 1496 and initials and crest Series Maximilian I found. Caption: Blade inscription? MARIA.HILLF.VNNS.AVS.NOTTG.? or on the other side? HILFF.SANNDT.SEWASTTIANN? Inscriptions vagina? Maria?, Or? Help maria? Brand: Hanns Sumersperger
Source:
bilddatenbank.khm.at/viewArtefact?id=373833&image=HJRK_D_11_2.jpg
See also this essay for further information:
sword-site.com/thread/464/hunting-knives-maximilian