Post by Jack Loomes on Nov 17, 2013 14:33:29 GMT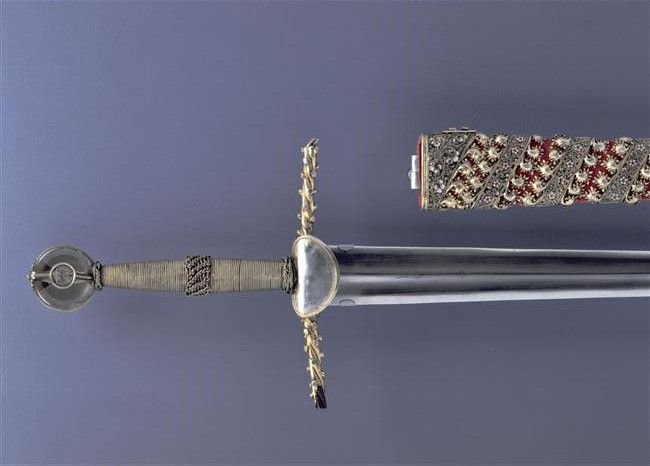 *Editor's Note: Text below has been digitally translated from the original German by Google Translate.
Hungarian. To 1419-1425. Blade Passau.
Armoury Inventory Number
VI 0361.01
Material and Technique
Width Gratklinge iron blank, two flutes, two hollow sections, brands, part tauschiert brass; quillons iron, plated with gold-plated silver, Knob rock crystal version silver gilt, partially enamelled, cut, engraved, engraving sheets gilded silver lining leather, silk velvet, Gehilze? , silver wire wrapped handle, gold plated.
Total length 117.6 cm blade 91.5 cm Weight 1667 g
The Kurschwert Frederick the Warlike, one of the richest of the swords obtained from European rulers of the Middle Ages. As the first Kurschwert of Wettin it testifies to the rise of this ruling since 1089 the Margraviate of Meissen sex in the number of shares eligible for election of the king seven electors of the Holy Roman Empire of the German Nation. The iron vessel, and the velvet-covered wooden scabbard are completely studded with gilt and polychrome enamelled silver. The filigree flower band in wire form on the scabbard shows with red-white-green, the national colors of Hungary. Panels on the version of crystal knob bear the German imperial eagle and the Hungarian and Bohemian coat of arms. The heraldic symbols refer to Sigismund, King of Hungary and Bohemia. The black eagle refers to the German king who appointed him as successor to the German Emperor. The sword was a gift from the King to Frederick IV, the Valiant, the 1407 Margrave of Meissen and 1423 as the successor of the last Ascanian, Albrecht III., As Elector of Saxony took over the government. The solemn ceremony of investiture on 1 August 1425 in Ofen (Buda) probably was the occasion of the award of the sword, later recognized as Kurschwert and was recorded in the inventories according to the electoral Silver Collection and the armory.
For more information on Oakeshott Type XVa Swords see this extract from Ewart Oakeshott's
Records of the Medieval Sword
:
sword-site.com/thread/166/oakeshott-type-records-medieval-sword
Source:
skd-online-collection.skd.museum/de/contents/show?id=855242#longDescription