Post by Jack Loomes on Nov 10, 2013 6:50:45 GMT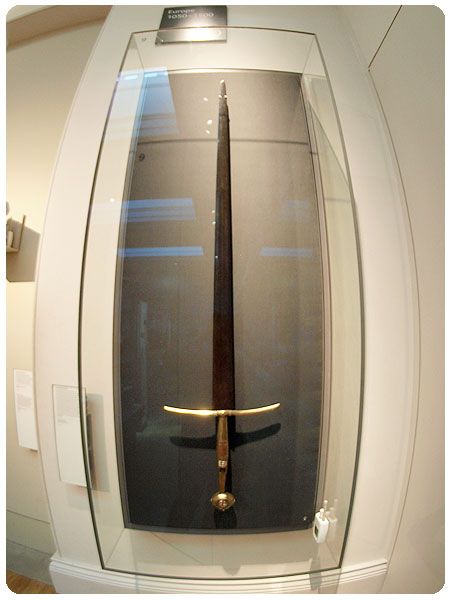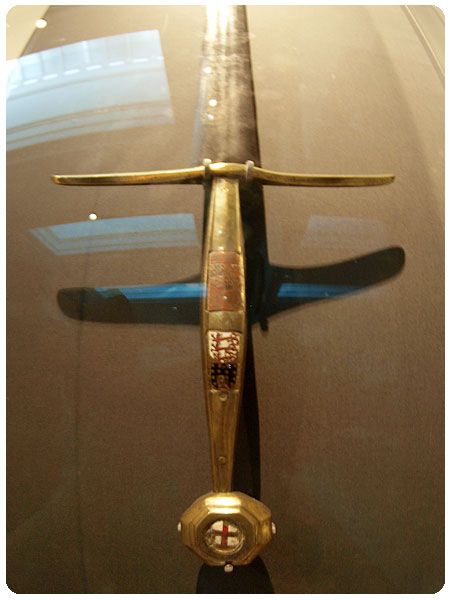 Sword of State - A ceremonial sword of the Prince of Wales
Dated: Medieval, about 1460-70 A.D.
Culture: Germany and England
Measurements: Total length: 181.4cm. Width: 40.6cm (quillons). Weight: 4.700kg
Featuring Mortimer, Burgh and Chester coats of arms
This large two-handed sword comprises a double-edged blade and a hilt of gilt brass with enamel and incised decoration. There are punched marks on either side of the blade in the form of two running wolves, which suggest that it was made in Germany. However, the hilt was decorated, and possibly even made, in England. One side of the grip shows the English royal coat of arms, and those of Wales, Cornwall and St George on the same side of the pommel.
The other side of the grip is decorated with the arms of Mortimer quartering Burgh and Chester. Along the quillons (hand-guard), around the pommel and down the sides of the grip are incised one or more inscriptions, which have not yet been deciphered though they may have protective meanings. Although swords of similar size were used in battle from the fourteenth century onwards, this sword had a ceremonial purpose.
The heraldry indicates that it was used by a Prince of Wales, having been carried in front of the Prince probably at his investiture with this title, or at state entries to cities of the realm. It may have been used either by Edward, eldest son of Edward IV, when he was created Prince of Wales and Earl of Chester in 1471, or by Edward, son of Richard III, at the former's investiture with the same titles in York in 1483.
*Editor's Note: This sword could arguably be categorised as a Type XIIIa (Oakeshott) but due to its incredible weight and size I've opted not to try to make this sword fit into the Oakeshott Typology.
J. Cherry,
Medieval Decorative Art
(London, The British Museum Press, 1991)
G. Ormerod,
Observations on ancient Swords of State belonging to the Earldom of Chester
, Vetusta Monumenta (1835)
P. Tudor-Craig, Richard III, exh. cat. (National Portrait Gallery, London, 1973)
Source:
www.britishmuseum.org/explore/highlights/highlight_objects/pe_mla/s/sword_of_state.aspx