Post by Jack Loomes on Nov 2, 2013 5:30:40 GMT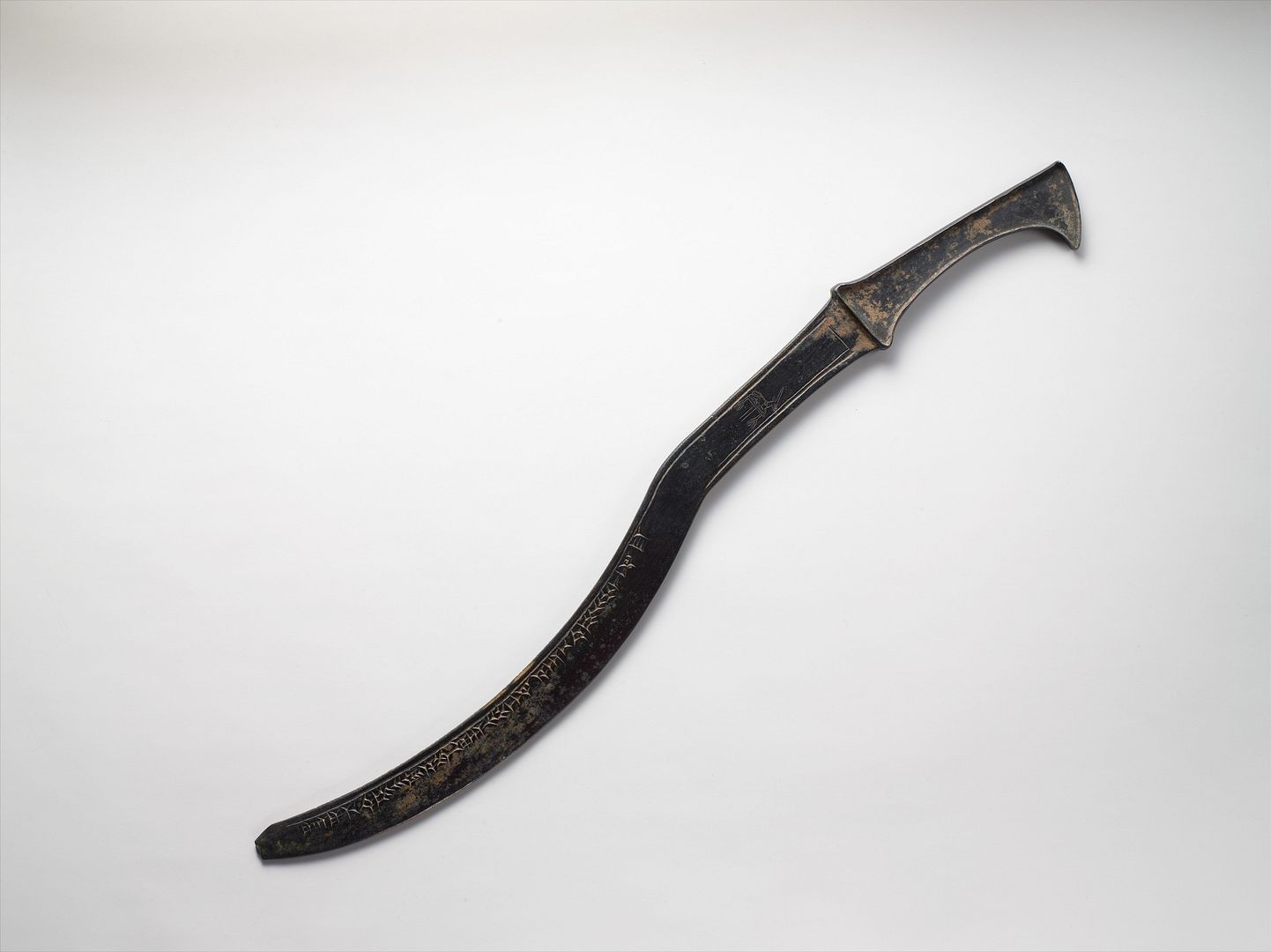 Period: Middle Assyrian Date: ca. 1307–1275 B.C.
Geography: Northern Mesopotamia
Culture: Assyrian
Medium: Bronze
Dimensions: L. 54.3 cm
Credit Line: Gift of J. Pierpont Morgan, 1911 Accession Number: 11.166.1
This artwork is currently on display in Gallery 406
This curved sword bears the cuneiform inscription "Palace of Adad-nirari, king of the universe, son of Arik-den-ili, king of Assyria, son of Enlil-nirari, king of Assyria," indicating that it was the property of the Middle Assyrian king Adad-nirari I (r. 1307–1275 B.C.). The inscription appears in three places on the sword: on both sides of the blade and along its (noncutting) edge. Also on both sides of the blade is an engraving of an antelope reclining on some sort of platform.
Provenance : 1874, acquired by Robert W. Hanbury in Mardin; by 1875, on loan by Colonel Hanbury to the Assyrian gallery of the British Museum, London; 1910s, purchased by J. Pierpont Morgan from Mrs. Bowring-Hanbury, London; acquired by the Museum in 1911, gift of J. Pierpont Morgan.
If you would like to buy a functional reproduction sword then our sponsor Kult of Athena have the largest range by far of any vendor and consistently sell their swords at the lowest prices of any company I know of.

Click here to browse their fine selection and in so doing help with the upkeep of Sword-Site!
Kult of Athena Web Store
References : Punch. May 1, 1875.
The Oldest Sword.
Chad Boscawen, William St. 1876.
Notes on an Ancient Assyrian Bronze Sword Bearing a Cuneiform Inscription.
Transactions of the Society of Biblical Arcaheology IV (2), pp. 347-348.
[Bertrand, Alexandre et Georges Perrot]. 1883.
Un glaive en bronze daté du XIVe siècle avant notre ère. Revue Archéologique, Troisième série - Tome II
(Juillet–Décembre 1883), pp. 146-147, pl. XX.
Burton, Sir Richard Francis. 1884.
The Book of the Sword.
London: Chatto and Windus, pp. 207-208, fig. 221.
Maspero, G. 1897. T
he Struggle of the Nations: Egypt, Syria and Assyria
. New York: D. Appleton & company, p. 607.
Ball, Charles J. 1899.
Light from the East
. London: Eyre and Spottiswoode, p. 133.
Cowper, Henry S. 1906.
Art of Attack
. Ulverston : W. Holmes Ltd., p. 146, fig. 200
Dean, Bashford. 1912.
An Assyrian Sword. Bulletin of the Metropolitan Museum of Art 7
(1), pp. 3-4.
Dean, Bashford. 1912.
Additional Note on the Assyrian Sword. Bulletin of the Metropolitan Museum of Art 7
(3), p. 62.
Metropolitan Museum of Art. 1912.
Accessions and Notes: The Oldest Sword. Bulletin of the Metropolitan Museum
of Art 7 (8), p. 153.
von Lenz, Eduard. 1912-1914.
Eine Säbelstudie. Zeitschrift für historische Waffenkunde 6
, pp. 188-189, fig. 20.
Meissner, Bruno. 1915.
Grundzüge der babylonisch-assyrischen plastik. Der Alte Orient15
. Leipzig: J. C. Hinrichs, p. 95, fig. 165.
Montelius, Oscar. 1916-1923.
Die älteren Kulturperioden im Orient und in Europa.
Stockholm: K. L. Beckmans, p. 308, fig. 1025.
Petrie, William M.Flinders. 1917.
Tools and Weapons. London : British School of Archaeology in Egypt
, pl. 27, no. 201, p. 26.
Olmstead, Albert T. 1923.
History of Assyria.
New York, London: C. Scribner's sons, pp. 48, 562.
Bonnet, Hans. 1926.
Die Waffen der Völker des alten Orients.
Leipzig: J. C. Hinrichs, p. 87, fig. 36.
Unger, E.A.O. 1927.
Assyrische und babylonische Kunst.
Breslau : F. Hirt, p. 100.
Smith, Sidney. 1928.
Early History of Assyria to 1000 B.C., Vol. 1.
London: Chatto and Windus, p. 137, fig. 12, p. 138, note 10, p. 379.
Dean, Bashford. 1930.
Handbook of Arms and Armor. New York: The Metropolitan Museum of Art
, p. 31, fig. 4.
Przeworski, Stefan. 1939.
Die Metallindustrie Anatoliens in der Zeit von 1500-700
vor Chr. Leiden: E.J. Brill, p. 53.
Yadin, Yigael. 1963.
The Art of Warfare in Biblical Lands in the light of archaeological study
, Vol. I. New York: McGraw-Hill, p. 207.
Solyman, Toufic. 1968.
Die Entstehung und Entwicklung der Götterwaffen im alten Mesopotamien und ihre Bedeutung
. Beirut: H. Abdelnour, p. 56, pl. XV:148.
Nickel, Helmut. 1969.
Warriors and Worthies: Arms and Armors through the Ages
. New York: Atheneum, p. 13.
Knauth, Percy et al. 1974.
The Metalsmiths. New York : Time-Life Books
, pp. 98f.
Grayson, Albert K. 1987.
The Royal Inscriptions of Mesopotamia, Assyrian Periods I: Assyrian Rulers of the Third and Second Millenia BC (to 1115 BC).
Buffalo: University of Toronto Press, no. 41 (ex.7), pp. 172-173.
Muscarella, Oscar W. 1988.
Bronze and Iron: Ancient Near Eastern Artifacts in The Metropolitan Museum of Art.
New York: The Metropolitan Museum of Art, p. 340, no. 472.
Porada, Edith and William W. Hallo. 1994.
Random Observations on Works of Assyrian Art
. In
Beschreiben und Deuten in der Archäologie des Alten Orients: Festschrift für Ruth Mayer-Opificius
, edited by Manfied Dietrich and Oswald Loretz. Altertumskunde des Vorderen Orients 4. Münster: Ugarit-Verlag, pp. 259-260, figs. 1-2.
Maxwell-Hyslop, Rachel. 2002.
Curved Sickle-Swords and Scimitars.
In Of Pots and Plans: Papers on the Archaeology and History of Mesopotamia and Syria presented to David Oates in Honour of his 75th Birthday, edited by L. Al-Gailani Werr et al. London: Nabu Publications, pp. 210-213, 216, figs. 1-3.
Source:
www.metmuseum.org/collection/the-collection-online/search/322443