Post by Jack Loomes on Oct 22, 2013 4:49:44 GMT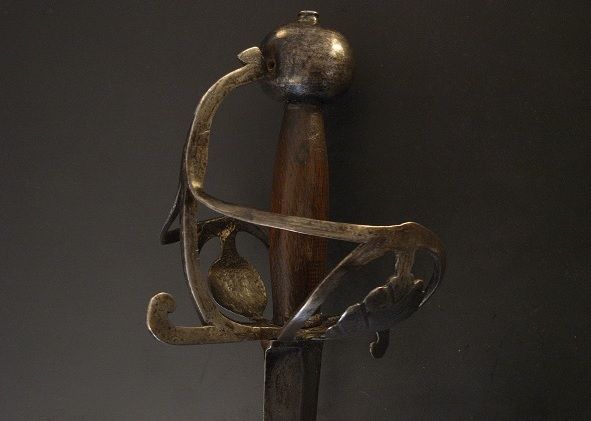 An elegant, rare and well balanced English broad sword from the early part of the 17th century. The sword is in good overall condition. The blade is of good quality and unmarked. It is double edged, of diamond section and tapers to the point. A medial ridge extends down the centre of the blade either side and at the hilt there is a pronounced short ricasso. The blade bears some nicks either side but mainly to the frontal cutting edge.
The hilt is made of flat bars and plates. The cross is thickest in the middle becoming more slender towards the swollen flattened counter-curved quillon terminals. A knuckle bow extends upwards from the middle of the frontal quillon terminating in a flattened oblong section which touches the front of the pommel. Two side rings of flattened iron are attached to the middle of the cross and from the tops of these two further side guards extend upwards to join the knuckle bow half way up. The sword is made for the right hand for which the largest side ring protects the knuckles. This ring is filled with a scalloped plate. The other, smaller ring, is filled with a smaller and less decorative disc.
The pommel is large and globular with an integral pommel button. The original grip is of wood and has a few slight vertically aligned cracks. The wire binding is now missing but its imprint has been left behind on the wood in places. Old leather washers are present at the top and at the base of the grip.
The overall length is 43 inches (109 cm) and the blade length 36.5 inches (92.5 cm).
A similar sword can be seen in Leslie Southwick's "The Price Guide to Antique Edged Weapons", 1982, The Antique Collectors Club, page 89, plate 226 and dated to "about 1630". This sword has a short hook-like upward pointing projection emanating from the top of the inner side of the knuckle bow which sits in a small aperture in the face of the pommel to secure the hilt. The sword described here possesses the same type of aperture in its pommel which would have had the same use but the hook-like projection is now missing from the top of the knuckle bow.
For more information on Oakeshott's Type XV swords see this extract from his
Records of the Medieval Sword
:
sword-site.com/thread/166/oakeshott-type-records-medieval-sword
Source:
www.albanarms.com