Post by Jack Loomes on Jul 31, 2013 12:05:58 GMT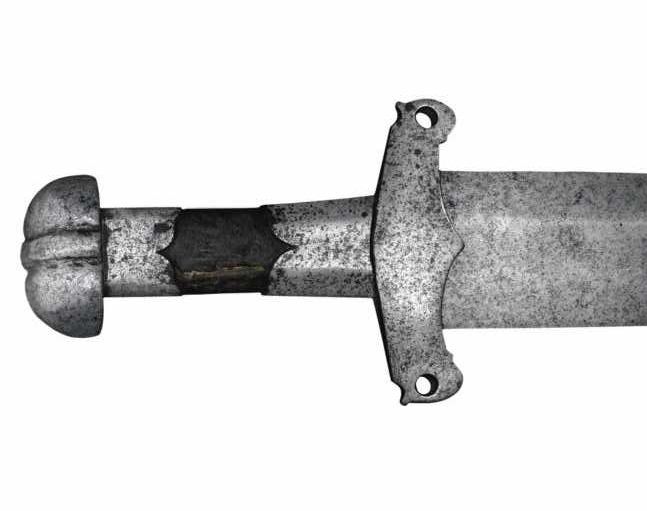 Length: 95cm
Sold for: 121,250 GBP
The early swords of the Islamic period were straight and double sided and very few of these swords still survive. Some swords, two belonging to the Muhammad, and others said to belong to the early Caliphs and Companions, taken as booty from the Mamlukes by the Ottomans after the battle of 1517, survive in the Has Oda of the Topkapi Saray and are known as the 'Blessed Swords' or Suyuf al Mubarake.
In the Askeri Museum (See Yucel 2001, pl.80-83), we find similar examples to our sword with resembling mounts and blades and although they are identified as Mamluk and dated to the fourteenth century, they must have derived from the Ayyubid style of the Saif Badawi or the 'Bedouin Sword'.
Other swords belonging to the Mamluk, and early Ottoman Emirs and Sultans are dispersed between the Topkapi Saray and the Askeri Museum in Istanbul, including one belonging to Najm al Din Ayyub, the father of Saladin, the conqueror of Jerusalem from the Crusaders. This sword of the twelfth century made by Salim bin Ali for Najm al Din, has a quillon, whose socket and guard is akin to that of our sword (ibid, p.77, pl.34). A more closely related quillon can be found on a blade with Abbasid or Umayyad provenance (ibid, p.76, pl.33). For two other examples of resembling pommels and quillons found on fourteenth-century blades and identified as Mamluk see Mohamed 2007, p.112, nos.11-12.
The early Mamluk sultans were Turks from the Kipchak territories and generally preferred the use of the sabre, a slightly curved slashing weapon, more suitable for mounting warfare than the Saif Badawi. There is evidence that Mamluks carried and used both types; however the Saif Badawi was reserved to be used for investiture and enthronment ceremonies of the Emir in honour of Muhammad, who had several straight named blades (See Elgood 1979, p.203).
This Arab tradition of the Saif Badawi was continued in Saudi Arabia, Zanzibar and Oman until the nineteenth century. An Omani example is included in this sale as lot 151 (see also Mohamed 2007, p.79, cat.43).
Source:
www.baluch-rugs.com/Islamic_Art/Mamluk_Art/Mamluk_Blessed_Sword_Prophet_Mohammed.htm