Post by Jack Loomes on Jul 13, 2013 11:16:36 GMT
Link to Sword-Site's Collection of Original Historic Type XVI - XVIa Swords Here
:
sword-site.com/board/27/oakeshott-type-xvi-xvia-swords
Extract from Records of the Medieval Sword by Ewart OakeshottType XVI - XVIa
It is possible, indeed, it seems inevitable, to suggest that this blade-form developed as a direct offensive answer to the newly-developed as a direct offensive answer to the newly-developed reinforced mail armour of the period 1300-1350. It is broad enough, and flat enough in section to provide an efficient cutting edge, but the lower part part below the end of the fuller is nearly always of a stiff flattened-diamond section with a strong median ridge, making it suitable for thrusting. Not all have this ridged lower blade, which makes it very difficult if not sometimes impossible to distinguish whether such a blade is XVI, or in fact a XIV; No. XVIa. 1 in this group is a case in point, its lower blade tapers strongly, though it is flat, but it has a very stout diamond-section reinforced point.
They are quite often shown in art. Sometimes, as in the two shown here at (iii) and (iv), from Italian early 14th century paintings at San Gimignano, they can be matched exactly by survivors - except that they are shown scabbarded. All we have to go on is the long, rather slender, tapering blades and long grips. Compare these two for instance, with the photograph of the hilt of No. XVI.2 belwo. A sculptured St. Peter at (v), from a roof-boss at Exeter Cathedral which can be dated to 1328 shows a perfect example of the type, closely matched by NO. XVI.3 below.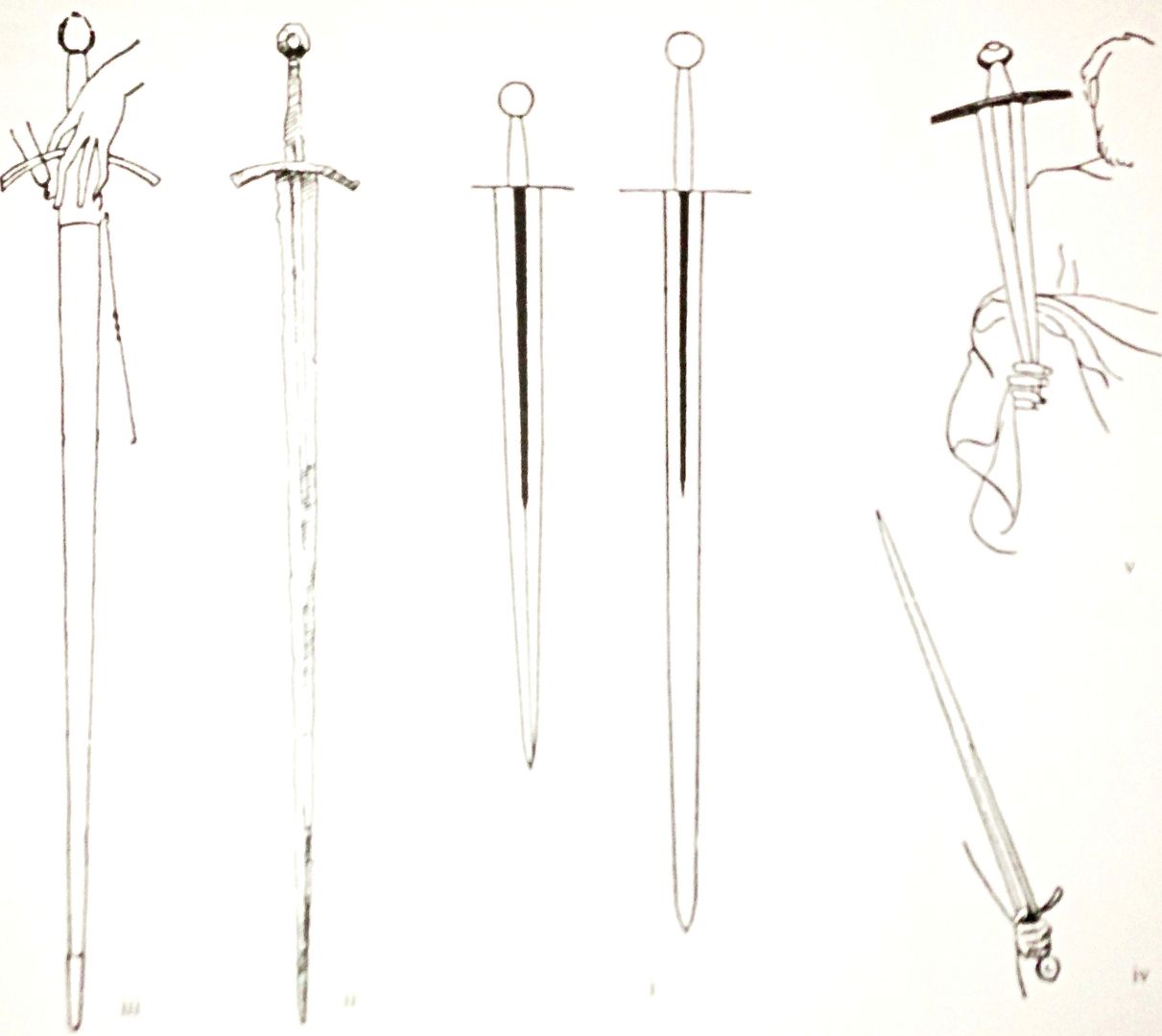 XVI. 1

Type: XVI
Find-place: London River, off Westemister opposter the HOuses of Parliament
Collection: Formerly the old London Museum, now the Royal Armouries IX.13
Blade-length: 27" (68.6cms)
Pommel-type: 1
Cross-style: A long 7
Date: c.1300-25
Condition: River-found. Excellent some pitting and erosion of the edges near the point and below the cross. Compare this sword with the drawing of St Peter fromt he Exeter roof-boss, which was carved before 1328.
Publication: Dufty; Oakeshott, Catalogue of the Second Park Lane Arms Fair, Londong, 1983.
XVI. 2
Type: XVI
Find-place: unknown
Collection: Royal Armouries, IX. 1083 formerly D'Acre Edwards
Blade-length: 32" (81.2cms) approximately
Pommel-type: J
Cross-style: 2
Date: c.1300-25
Condition: Excavated, almost certainly river-found. Very good though there is a lot of corrosion at the point-end of the blade. The cross is very slightly bent, up one arm and down the other. The metal of the cross is very stout, of square section, and it has always seemed to me when handling this sword that very shallow reverse curvature couldn't have been made by accident; it must, I think, have been forged that way - though one cannot assume that, in the forging, the bend was deliberate. It is too shallow to have a 'guarding' effect like 16th century vertically recurved quillons; bu the process of forging a carefully sharped bar of of iron, with a slot in the middle is tricky business and an inadvertent bend could very easily occur. There is some distortion in the tang, too.
Publication: Dufty.
XVI.3
Type : XVI
Find-place: Unknown, but in Denmark
Collection: Nationalmuseet, Copenhagen
Blade-length: 30&1/8" (76.5cms)
Pommel-type: T.1
Cross-style: 6
Date: c.1300-50
Condition: River-found? Excellent. The erosion on the edges of the blade is the result of wear and honing, not corrosion. The fuller bears a a near four-letter inscription inlaid in latten. This inscription is similar to that upon the blade of the big XIIIa in the Burrel Collection in Glasgow, shown here above at XIIIa.10.
There is a sword extremely similar to this - its hilt is identical though its blade is about 6" long, in the Museum at Bern (inv. No.840). That one, however, has no inscription.
Publication: Hoffmeyer; Pl.XXXIId.2 p.34 no.1 Oakeshott, SAC pl.20b
XVIa.5
Type: XVIa
Find-place: ? Germany
Collection: The Royal Armouries. IX. 1084. Formerly D'ACre Edwards
Blade-length: 33" (83.9 cms)
Pommel-type: K
Cross-style: 6
Date: c.1300-25
Condition: Excavated. ? River found. Good, but considerable erosion of the edges and some deep putting on the blade. The grip, of white wood, is modern, The shape of this sword should be compared with that of No.XVI.1 in this series. The fuller here is very narrow, but there is a distinct rib in the lower half of the blade.
Publication: Dufty, [sic]

Oakeshott Sword Type X:
sword-site.com/thread/118/oakeshott-type-records-medieval-sword
Oakeshott Sword Type Xa:
sword-site.com/thread/123/oakeshott-type-records-medieval-sword
Oakeshott Sword Type XI - XIa:
sword-site.com/thread/126/oakeshott-type-records-medieval-sword
Oakeshott Sword Type XII:
sword-site.com/thread/127/oakeshott-type-records-medieval-sword
Oakeshott Sword Type XIIa:
sword-site.com/thread/128/oakeshott-type-records-medieval-sword
Oakeshott Sword Type XIII - XIIIb:
sword-site.com/thread/152/oakeshott-xiiib-records-medieval-sword
Oakeshott Sword Type XIV:
sword-site.com/thread/159/oakeshott-type-records-medieval-sword
Oakeshott Sword Type XV - XVa:
sword-site.com/thread/166/oakeshott-type-records-medieval-sword
Oakeshott Sword Type XVI - XVIa:
sword-site.com/thread/167/oakeshott-type-records-medieval-sword
Oakeshott Sword Type XVII:
sword-site.com/thread/175/oakeshott-type-records-medieval-sword
Oakeshott Sword Type XVIII - XVIIIa:
sword-site.com/thread/183/oakeshott-xviii-xviiia-records-medieval
Oakeshott Sword Type XIX:
sword-site.com/thread/187/oakeshott-type-records-medieval-sword
Oakeshott Sword Type XX - XXa:
sword-site.com/thread/200/oakeshott-type-records-medieval-sword
Oakeshott Sword Type XXI - XXII:
sword-site.com/thread/204/oakeshott-type-records-medieval-sword
Diagram of Oakeshott's Sword Types:
sword-site.com/thread/251/index-ewart-oakeshotts-medieval-typologies