Post by Jack Loomes on Mar 11, 2020 17:00:52 GMT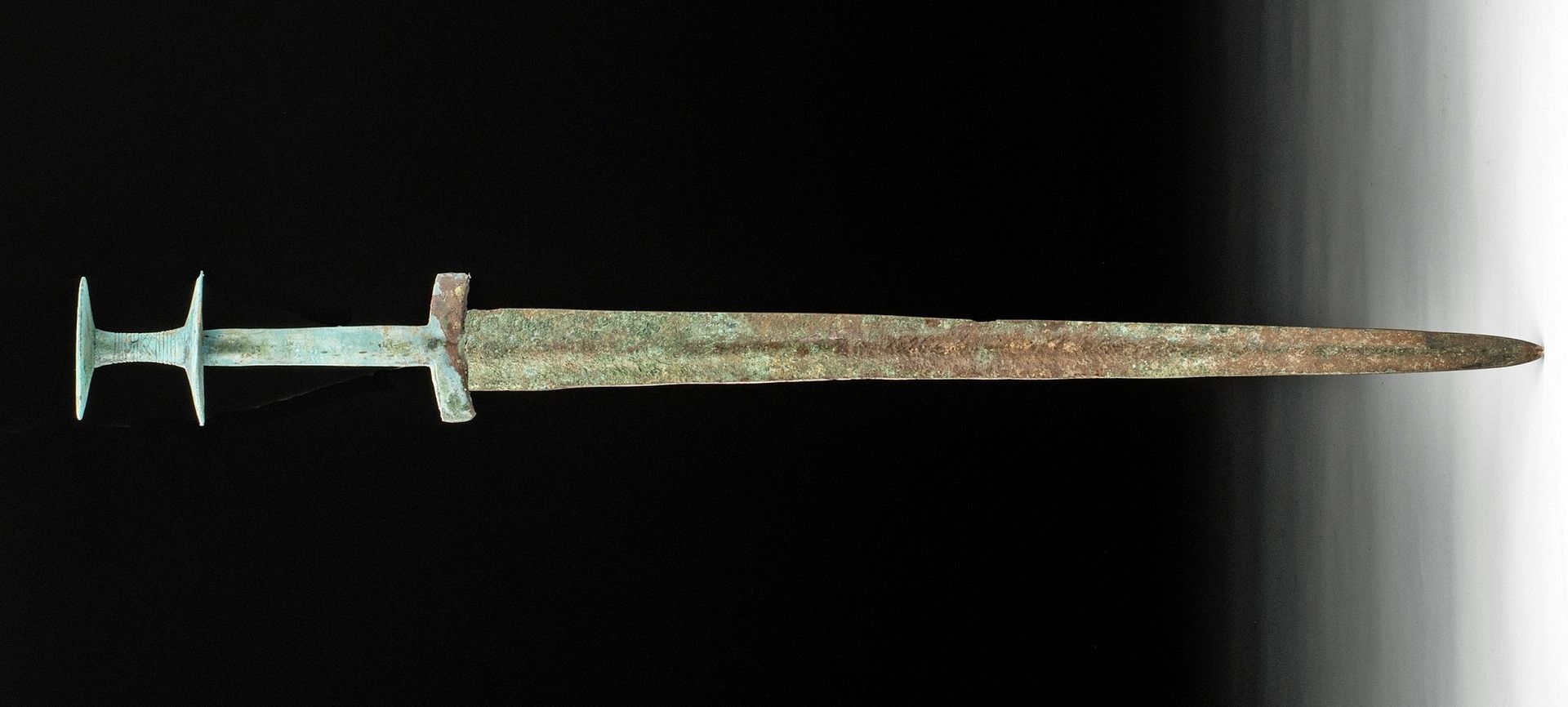 Ancient Near East, northwestern Iran, Luristan, ca. 1000 to 600 BCE. A beautiful cast-bronze sword of a slightly longer form with a pair of thin discs capping the pommel end. The solid handle is surmounted by a rare T-shaped cross guard, and the elongated blade has sharpened edges and a protruding midrib on each side. The gap between the pommel discs suggests it was meant to hold a weighted pommel ball carved from stone to act as a counterweight when the sword was swung. Mottled layers of green, brown, and russet patina have formed across the entire weapon, and pale blue-green patina is visible on the handle and pommel.
Size:
23" L x 2.5" W (58.4 cm x 6.4 cm)
It seems that swords like this example were not just made to be used in battle, but instead to show status or to be offered as votive weapons. There is a strong tradition in the ancient Near East of swords and other weapons being associated with the gods. For example, there is a rock carving dating to ca. 1300 BCE from this region that shows a scene of the gods of the Underworld, including one who is holding a sword similar to this one. Similarly, a golden bowl excavated at Hasanlu (northwestern Iran) shows three swords of similar form to this one that are associated with three deities from the Hittite pantheon. Whatever its original function, this would have been a spectacular weapon to behold, with a deep, shining surface when polished. Whoever commissioned this sword must have been an elite individual of high status, perhaps seeking to honor the gods by handling such a weapon.
Condition:
Blade reattached to guard and handle with small chips and light adhesive residue along break line. Original pommel weight missing. Abrasions and nicks to blade, guard, handle, and pommel discs, with light encrustations, and minor pitting. Light earthen deposits and wonderful patina throughout.
Provenance:
private J.H. collection, Beaverton, Oregon, USA, acquired in June 2016; ex-Artemis Gallery; ex-private J. Connell collection, Massachusetts, USA
Source:
www.artemisgallery.com/luristan-bronze-sword-w-cross-guard-great-patina