Post by Jack Loomes on Feb 12, 2020 15:20:28 GMT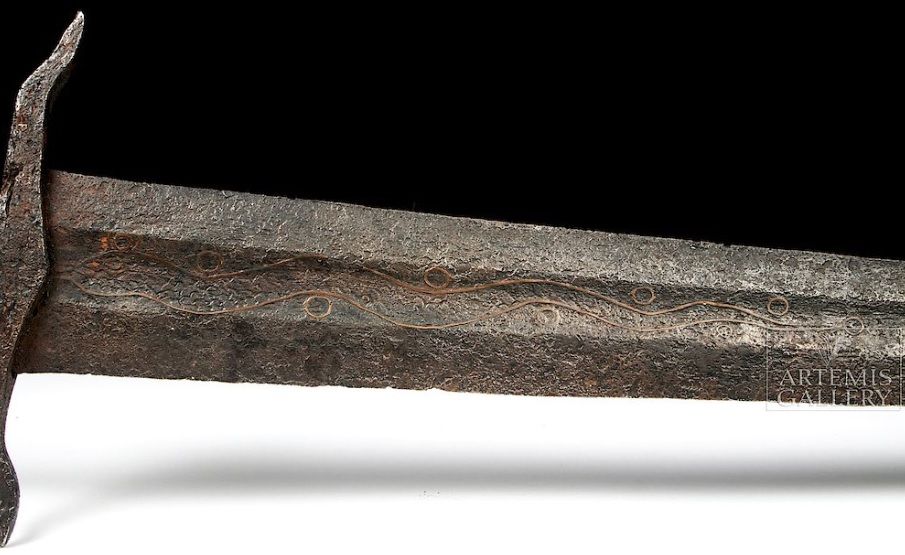 Great Britain, during the time of the Crusades (and end of the Viking invasions), ca. 1250 to 1280 CE, shown on the Coat of Arms of Kings Edward I & II, and Henry III. A superb and exceedingly rare complete Oakeshott type XIV iron and steel medieval sword. Broad, springy steel blade with wide single fullers, tapers strongly at point, short hilt, bowed tang riveted through crutch shaped iron pommel. Cross, one piece, iron, straight along grip side with downward drooping pointed terminals, at blade side has central cusp narrowing to downward drooping pointed terminals; could be described as "drooping moustache" profile. The type XIV blade is dated to the period 1250 to 1340 but this specific subtype (XIV.2) can be dated by reference to engraved seals of English and Sicilian kings holding this specific sword type to a range of 1250-80. Within the fullers are two copper wire inlays, one a sinuous scaly serpent, the other a menage of spirals, triangles and pentagrams. There are other type XIV blades with figural and lettered inlays but there are no other known type XIV.2 swords with inlays. A snake 240mm long and 10mm wide with four wiggles, a lidded eye, beak or tongue and scales is inlayed into one fuller. There are nine inlayed circles outside the body of the snake - one touches the tail point, a possible name pun or rebus. On the other fuller is a tight geometric design, comprising two elongated terminal triangles within triangles, enfolding a pair of linked opposing spirals which separate two pentagrams one within another, the other with a central circle and five radial divisions, some magical or religious design perhaps. An amazing, complete medieval European sword, with very unusual (and probably personalised) inlays and tightly dated 1250 to 1280 CE.
Estimate:
$40,000 - $50,000
Size:
35" L.
*For a similar example, see Oakeshott Ewart,
Records of the Medieval Sword
. 1991, Boydell Press, Woodbridge Suffolk, UK. Pp 115 to 125 for type XIV swords, p 117 for type XIV.2.
Extensive analysis has been done on this piece. It has been reviewed by Dr. Gerry McDonell of Archaeometallurgy Labs in Wales who has concluded the metal blade and copper wire insert are each of the period. Report to be provided.
Provenance:
ex-private England, United Kingdom collection, acquired in the 1970's
#108783
Condition:
Intact and excellent, a superb example for the most discerning collector.
For more information on Oakeshott Type XIV swords see this extract from Ewart Oakeshott's
Records of the Medieval Sword
:
sword-site.com/thread/159/oakeshott-type-records-medieval-sword
Source:
www.bidsquare.com/online-auctions/artemis-gallery/royal-family-medieval-iron-sword-oakeshott-type-xiv-1114559