Post by Jack Loomes on Jul 6, 2013 14:41:01 GMT
I had someone tell me recently that bone handles on Roman Swords were a fallacy invented by the re-enactment community. Clearly he is wrong and here is a number of examples to clarify the matter.
I believe he was using the A1bi0n Gladius collection as his reference for this false statement of his. All too frequently I see modern sword enthusiasts using modern reproduction swords as their benchmark of what is and what is not historically accurate. The problems with doing so should be self evident, but whether due to laziness, or not knowing any better it is a common occurrence.
This dilemma is a clear cut example of why it is critical to examine
original
swords, which are freely available to view in museums, books and the internet, as our source of information for historical data.
I'm a graduate of a Bachelor of Arts majoring in European Literature myself [the focus of my studies being the Roman War Machine], and during my studies great emphasis was always placed on using primary sources. A primary source in the context of swords is:
1. An original sword
2. Art contemporary to the sword
3. Literature contemporary to the sword
Secondary sources include:
4. Histories written by modern authors
5. Reproduction swords, no matter how 'historically accurate' their sales pitch makes them out to be
You can see why the first category (numbers 1 - 3) in this context is so critical; and it's not hard to get access to primary sources in the age of the internet, you don't even have to leave your home!
Using secondary sources is useful to get a quick overview, but the problem with secondary sources is that they present merely the author of said secondary source's understanding of the original material. It is far better to go the original material. And why wouldn't you? It's so easy to get hold of these days! Make that little bit of extra effort and reach for excellence in your work! If being historically accurate is your aim, as so frequently for sword enthusiasts it is, wouldn't the original material ALWAYS be your best point of reference?
+ + + + + + +
Handle of sword dating from the second half of the first century AD, bone, long 10 cm wide and 3.5; origin Galati (Romania).
(Muzeul National de Istorie to Romaniei - Romania, Bucharest. From the book
The Edge of Trajan's Empire
- publisher Electa)
+ + + + + + +
Knob and bone handle.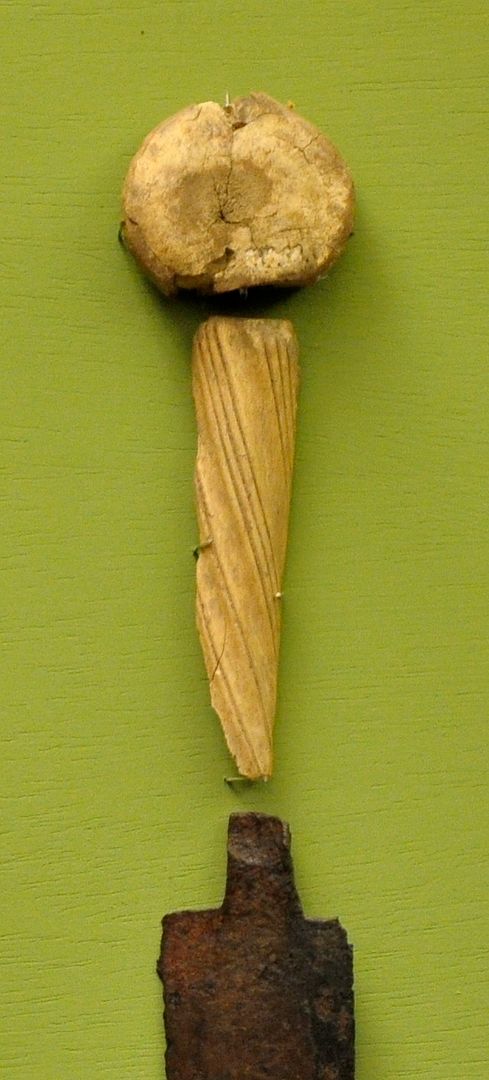 Römerkastell Saalburg-D
+ + + + + + +
Fragments of the sword type Mainz; handle (7.9 cm) and guard (6 cm) in ivory.
Museum der Pfalz - Speyer-D
+ + + + + + +
Roman Gladius bone grip excavated at fendly Farm Orchard Cow Roast during the late 1970s.
Römerkastell Saalburg-D
+ + + + + + +
Two specimens of sword handles made of bone or ivory.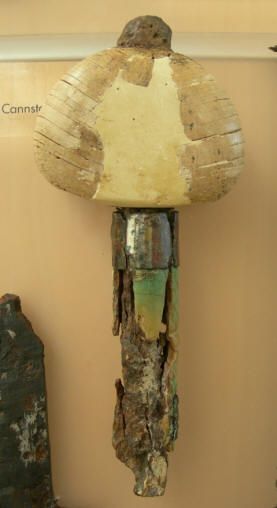 Limesmuseum Aalen - Aalen-D
+ + + + + + +
Indeed even some Roman
scabbards
were made of bone: here is part of a bone sheath for the sword, dating from the third century A.D.
Arheološki muzej u Zagrebu - Zagrebu-HR - From the book "War Sisciensia" -Museums Archaeologici Zagrabiensis
+ + + + + + +
...and even scabbards slides:
Limesmuseum Aalen - Aalen-D