Post by Jack Loomes on Jul 6, 2013 12:21:39 GMT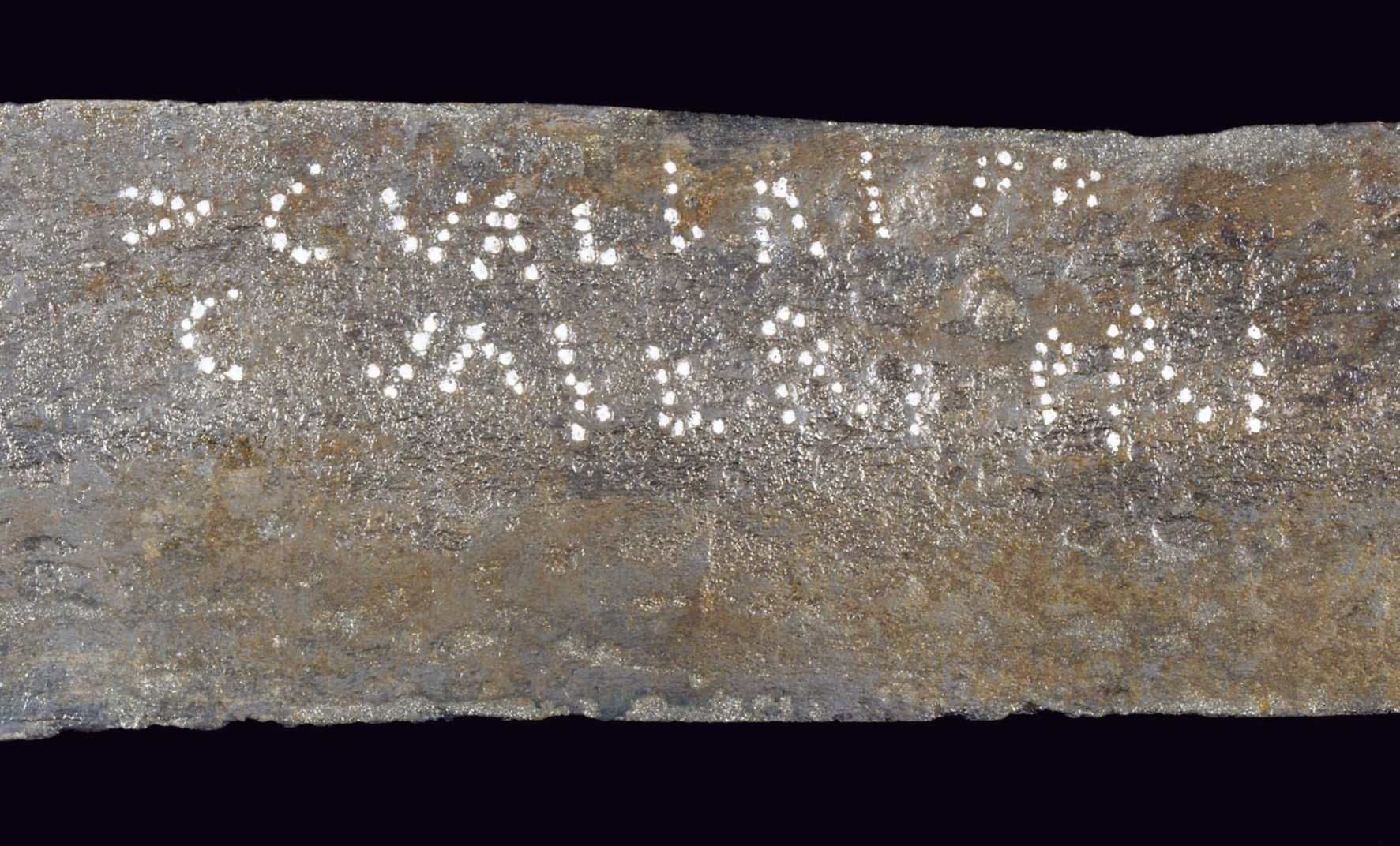 A POMPEII-TYPE GLADIUS (SHORT SWORD), TINNED BRONZE SCABBARD AND IRON SPEAR HEAD

MID/LATE 1ST CENTURY A.D.
The gladius with parallel double-edged blade of piled construction, of flattened diamond section with raised rib at the point, and long tang, the forte with dot-punched inscription on both sides reading: "C. Valer(i) Pr[imi]/C.Valeri(i) Pri(mi)" and: "C. Valeri(i) P[rimi] C. Raniu(s)/C. Vale[ri] Primi", mounted, 25 in. (63.6 cm.) long; the scabbard consisting of bronze mounts with remains of tinning, with cut-away and engraved motifs, comprising the locket with two pierced and engraved panels decorated with two helmeted figures, the upper with a warrior moving towards the right, his head turned back, holding spear and shield, and wearing muscled cuirass and crested helmet, two shields resting at his feet, the lower panel with figure of winged Victory writing on a shield hanging from palm tree, wearing drapery around her lower body, the chape with figure of winged Victory holding palm leaf, a separate palmette with scrolling pattern above, with modern collar attachment, mounted, 5¾ in. (14.5 cm.) long max.; and an iron spear blade decorated with circular and wavy line motif on both sides, with faint inscription on the shaft, 17¼ in. (44 cm.) long; and a modern replica of the gladius and scabbard, 26½ in. (67.3 cm.) long max. (4)
Provenance:
Found in Wiesbaden (see below) in 1971-1972 by Wolfgang Johe, from whom the items were acquired in 1987.
THE GUTTMANN GLADIUSExhibited
Die Römer zwischen Alpen und Nordmeer
, Rosenheim, May-November 2000.
Lot NotesPUBLISHED:
H. Schoppa, Ein Gladius vom Typus Pompeji, Germania 52, 1974, pp. 102-108; and Die Römer zwischen Alpen und Nordmeer, exhibition catalogue, Rosenheim, 2000, p. 330, pl. 38d.
In his publication Schoppa gives a clear account of the discovery of the gladius and related pieces in 1971-1972 by the amateur archaeologist, Wolfgang Johe, who made the discovery on a spoil heap at Wiesbaden, from the excavation work of a Roman site in Mainz. Schoppa discusses the subsequent work carried out on the piece at Wiesbaden Museum, the translations of the inscriptions and the iconography of the scabbard decorations.
Price Realized
£54,970
Source:
www.christies.com/lotfinder/lot/a-pompeii-type-gladius-tinned-br-midlate-4265328-details.aspx?from=searchresults&intObjectID=4265328&sid=cae9500a-3403-4235-a7d4-bb8d64d8cda1