Post by Jack Loomes on Feb 9, 2015 7:39:39 GMT
The Blind Leading the Blind
by Pieter Bruegel the Elder 1568.
en.wikipedia.org/wiki/The_Blind_Leading_the_Blind
You only need to have the most casual look through the sword forums to see self styled preachers of the sword extolling the evils of the "secondary bevel" which corrupt "historically accuracy." Like diarrhoea it keeps coming out of the mouths of the keyboard warriors, because - in their small minds - only they truly understand history. They cannot deal with modern life, and so have created a fantasy history in which they live, which only they understand properly; or so they think.
But it isn't history. It's a bunch of bullshit. It's the blind leading the blind. It's pseudo-scholarship of the worst kind.
We're told that only Al8ion and Arm5 & Arm0r make "historically accurate swords". Spreading the gospel of these commercial entities is MyArm0ury and S8G.
So I thought it was about time someone gave a blow by blow rundown of the credentials, or lack thereof, behind the Army of the Blind.
We'll start with MyArm0ury. Nathan Robi5on founded that site. He's a web developer apparently. His capo Chad Arn0w is a musician. These two have taken it upon themselves to dictate to those who will listen what the rules are for a "historically accurate sword".
Next is S8G. Paul 5outhren runs that site. Paul apparently has no piece of paper either, but the internet being what it is that hasn't stopped him from captaining a forum on which the unknowledgeable can disseminate their lack of knowledge in a troll like way to the net surfing masses. Paul seems to be content to be back from the controls, but is happy to have two headkickers at large on his forum: William Swi8er and Marc Kad3n Ridg3way. Neither of those guys have relevant degrees or even a career of working for an Auction house between them. Nothing qualifies any of those characters to be 'educating' the uninitiated.
Next up is Al8ion. Swords designed by Peter John55on. We're constantly told by MyArm0ury and S8G that John55on is the guy to listen to. Why? Well because Peter is a "renowned researcher." Great! That's the kind of people I love to read. But alas, Peter has not published anything for anyone to read. We're told that Peter has documented more than 100 swords, but will
not
share his work for free or for a fee, and will
not
allow his work to be scrutinised by academics.
"See this bridge. I'm selling this bridge. You can't see it, but it's for sale."
Peter is a graphic designer. He has no formal training in history or archaeology at a tertiary level.
Unless they are holding out on us I do not believe the owners of Al8ion have relevant pieces of paper either. With their propensity for self-publicising I somehow doubt they are keeping their powder dry on having degrees but not letting us know already.
Next sacred cow I'm going to put to slaughter is Arm5 & Arm0ur. Not one relevant degree there either. I've looked and I can't find academic credentials mentioned for anyone at that company. Ewart Oakeshott gave them a thumbs up, which is nice, but Ewart, like Peter was a graphic designer.
At least Ewart was prepared to put his work to paper for the scrutiny of the public and the academic world.
So next time someone starts telling you about what is and is not historically accurate, it might pay to check their credentials first.
+Jack Loomes B.A.
European Lit
. U.N.E.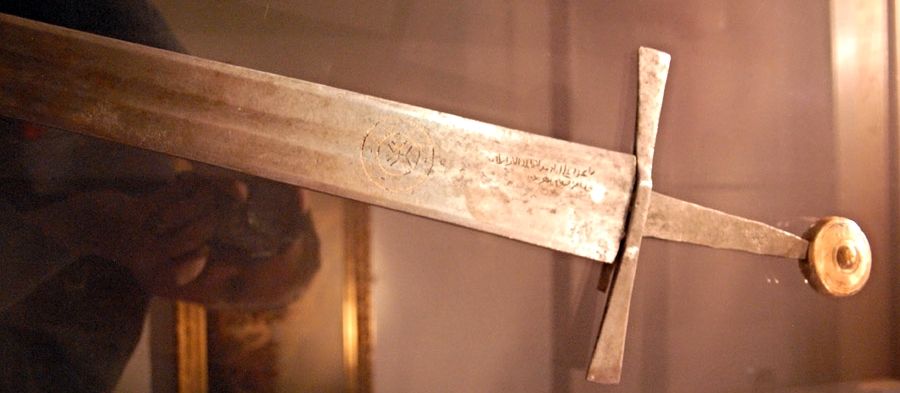 A clearly visible secondary bevel, an almost ubiquitous feature on intact [non-excavated] medieval swords.