Post by Jack Loomes on Jan 17, 2015 4:52:15 GMT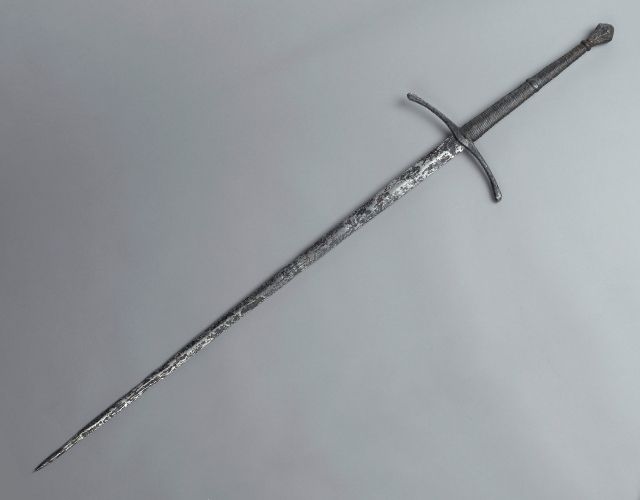 Editor's Note: Text below provided as translated by Google from the original French text.
The two-handed sword is one of the innovations related to the "new fencing," which is set up in the second half of the fourteenth century, when the noble fighters are covered with rigid flat. This evolution of the defensive equipment brings new tactical uses: better protected, the knight is handicapped by the vulnerability of his mount and often resolve to fight on foot. The two-handed sword is particularly suitable for this type of confrontation. Note that the fighting on foot in the lists became, at the same time, a sport practiced in the context of friendly tournaments or in the rarest and most dangerous of judicial duels.
Despite its length, 1, 26 m, the sword presented here remains manageable and lightweight, the length of the long rocket leather covered leaving wide latitude for the positioning of the hands. To facilitate rapid fencing and not to hinder the movements of the wrist, head, small, pear-shaped adopted a diagram (picture 2). The two-handed sword will also be used in the war by infantry body, especially in the German and Swiss mercenaries lansquenets, from the late fifteenth century. She was used to create holes in the opposing battalions, by cutting the stems pikes.
The claymore, traditional Scottish weapon in the quillons decorated with openwork quatrefoil (complementary subject), is also a two-handed sword which will, in the seventeenth century, as most of these weapons, a ceremonial dimension warrior.
Cartel
Dating: Around 1470-1500
Author Unknown
Materials: Iron and leather
Techniques: Wrought iron
Place of creation: Germany and Denmark (?)
Height:
1.26 m
Width:
0.27 m
Weight: 1.24 kg
Inventory No: J PO 1962
Background: Was part of the ancient collection of Georges Pauilhac, acquired by the Army Museum in 1964
For more information on Oakeshott Type XVa swords see this extract of Ewart Oakeshott's
Records of the Medieval Sword
:
sword-site.com/thread/166/oakeshott-type-records-medieval-sword
If you would like to buy a functional reproduction sword then our sponsor Kult of Athena have the largest range by far of any vendor and consistently sell their swords at the lowest prices of any company I know of.

Click here to browse their fine selection and in so doing help with the upkeep of Sword-Site!
Kult of Athena Web Store
Source:
www.musee-armee.fr/collections/base-de-donnees-des-collections/objet/epee-a-deux-mains.html