Post by Jack Loomes on Jul 13, 2014 6:28:15 GMT
SWORD-SITE.COM's
GUIDE TO MANUFACTURERS FOR SWORD BUYERS
Please note, unlike many other sword forums, Sword-Site has always transparently declared any advertising we've done with sword companies, & I've never allowed it to effect the site. With that in mind I give you my honest opinions on the major sword manufacturers.

Windlass Steelcrafts
Steels Used - Unspecified High Carbon Steels, probably from the 10xx series (for instance 1065AISI)
Information on Windlass Steelcrafts, including construction, overall value for money and other factors to consider when looking at these swords.
Windlass began as a manufacturer of Kukri Knives during World War 2 (1943) and are based in India. Since their inception Windlass have manufactured swords and knives for the world's militaries, so Windlass have an impressive pedigree in this regard.
Market Position
Generally speaking Windlass swords are in the $100 - $300 dollar range, with exceptions to be found within about $50 - $100 either side.
The almost universally well thought of and popular Windlass European sword is an attractive and beautifully balanced Oakeshott Type XII medieval sword.
Pros
Tough
- more often than not Windlass make very tough swords.
Good Fit & Finish
- for the money, Windlass produce swords that represent good value and a fit and finish better than their price might suggest.
Historically Appropriate Manufacture
- by and large Windlass swords are produced and assembled in a way that is consistent with the historical swords they represent. For instance Western European swords tend to have a peened, or burnished tang (for more information on sword construction see
What to Look For in a Functional Sword
)
Cons
Sharpness
- due to Indian law Windlass cannot ship swords sharp. What they do instead is ship swords that have a butter knife sharp edge on them. It does not take long to sharpen Windlass Swords though, even with only hand tools like a file and whetstone.
Contrary to what some forums claim a 'butter knife sharp' sword that is subsequently sharpened is not anachronistic, nor is it 'historically inaccurate' edge geometry.
Distal Taper
- while Windlass swords usually feature some distal taper, they will generally not feature as much as a Hanwei Tinker Pearce sword for instance. Historically it was not uncommon for swords to have little to no distal taper, so a lack of it does not represent abandonment of historical accuracy as some forums claim, however a sword with less distal taper will usually require greater strength on the behalf of the wielder to move around - resulting in greater striking power - but meaning you'll need to get going on the chinups and pushups to keep up with the sword. Keep in mind that historical swordsmen would have been strong men, they didn't sit around at their computer desks all day! For more information on distal taper see:
What to Look For in a Functional Sword
Third World Manufacture
- this one is getting harder and harder to avoid as time goes on. In short Windlass swords are made in India, which unfortunately does not have the reputation for workers' rights that the Western World does. It should be noted however that conditions from one Indian factory to another vary greatly, with some good and others terrible. So far no reports of the ill treatment of staff have come out of India regarding Windlass, and their staff in the Western World do seem to enjoy a very pleasant workplace.
Darksword Armory
Steels Used - In The Past Generally 1065AISI High Carbon Steel; Currently (Almost Always) They Are Using 5160AISI High Carbon Silicon Spring Steel Which Is Selectively Hardened
Information on Darksword Armory, including construction, overall value for money and other factors to consider when looking at these swords.
Darksword Armory is based Canada and have been operating in their current form since the late 1990s.
Market Position
At the time of writing Darksword's offerings are generally within the $300 - $700 range. Darksword have launched an all pattern welded range whose prices tend to be around $1600 Canadian Dollars.
One of the most popular of the 'messer' family of sword and knife hybrids currently in production is Darksword's attractive Messer.
Pros
Tough
- as modern mass produced swords Darksword are among the toughest.
Historical Feel
- you'd be hard pressed to find modern sword blades that look more like they came from a medieval forge. Darksword Armory forges all its swords and as a result they have an authentic appearance.
Cons
Distal Taper
- In the past at least Darksword swords tended to not have alot of distal taper. Again this is not necessarily a big no no in terms of authenticity, but it does mean that if you don't do any strength based exercises on a regular basis you will probably struggle wielding Darksword Armory swords.
*Update January 2015 - Darksword's current offerings are now forged to shape with significant distal taper.
Rustic
- while the rustic appearance of some Darksword swords can be appealing in its own right, some people find the fit and finish of Darksword's offerings not to their taste. Buyers of Darksword swords often tell me the sturdiness of Darksword's swords is more important to them than minor issues of aesthetics, and I tend to agree. It should be noted too that as of 2014 the newer additions to Darksword's lineup have come ahead in leaps and bounds in terms of cosmetic issues.
*Update 2014 - I have recently reviewed two of Darksword's excellent swords and while they were always good they have gotten even better, check out these two reviews:
Darksword Armory Celtic Anthropomorphic Short Sword Review
Darksword Armory Two Handed Gothic Sword Review

Deepeeka Swords
Steels Used - Mild Steel for decorative models / EN45 for "Battle Ready" models
Information on Deepeeka swords, including construction, overall value for money and other factors to consider when looking at these swords.
Deepeeka swords are based in India and are roughly thirty years old. They have moved into swords in the last two decades.
Market Position
Deepeeka occupy an unusual market position - on the one hand they produce the largest range of ancient world swords - such as the swords of the Ancient Greeks and Romans, many of which are quite good; on the other hand they have a reputation for producing medieval swords that are sometimes
less
than excellent.
Most Deepeeka swords are between $50 to $150.
Pros
Ancient World Swords
- when it comes to Roman and ancient world swords generally, Deepeeka have the largest range of any one producer by far. Some of their Roman offerings are great, designed in conjunction with reenactors. In balance I should point out that while Deepeeka's Bronze swords are cheap, they are not particularly great.
Cheap
- I do not think that their is a mass manufacturer of swords who sells swords as cheaply as Deepeeka do. Sometimes these low prices are achieved in ways which may be undesirable - for instance using medium density fiber (particle board) in scabbards rather than regular timber.
Cons
Thick blades
- Deepeeka swords almost always have thick blades. This can be a good thing for reenactors who use swords for repeated sword on sword work. On the other hand the thick blades can make Deepeeka swords unwieldy. Why exactly Deepeeka consistently use thick blades is not clear, however I suspect they do so because thick blades require alot less time to make (less time being ground to shape).
Less Than Rugged Construction
- Deepeeka make swords at great prices, there's no denying that. The old maxim is true though: you usually get what you pay for. Often Deepeeka swords will feature welded on tangs, chunky fittings, rough edges and other byproducts of their cheap prices. If you are looking for a sword that is part of a costume, this is unlikely to be a problem.
It is worth noting that Deepeeka have made big strides forward in the sturdiness department - specifically by creating lines of swords that are capable of withstanding reasonable amounts of punishment (swords denoted as "Battle Ready").
Third World Manufacture
- It's very hard to avoid third world labour when buying mass produced swords and Deepeeka, based in India, is no exception.
CAS Hanwei & The Hanwei Tinker Pearce Line
Steels used - ASSAB K120C (Swedish Powder Steel) [Manufactured in Japan], L6 / Bainite Tool Steel, 1075 & 1090AISI Carbon steel, Tamahagane
Information on CAS Hanwei & The Hanwei Tinker Pearce line of swords, including construction, overall value for money and other factors to consider when looking at these swords.
Wikipedia has the following to say about CAS Hanwei:
Hanwei is a company manufacturing swords, operated by Chen Chao-Po, better known by his pseudonym Paul Chen.
Chen is a Chinese sword collector who in ca. 1997 opened a factory in Dalian manufacturing inexpensive replicas of Edo period Japanese swords. The manufacturing process imitates methods of traditional Japanese swordsmiths, for a fraction of the price. Hanwei enjoys considerable success among hobbyists (e.g. practitioners of Iaido) due to the prohibitive pricetag of "real" Japanese shinken and has moved into manufacturing models of Chinese and European swords as well, including typical specimens of a Viking sword, a knightly sword and a hand-and-a-half sword.
CAS Hanwei work as an umbrella group for a number of other brands - the CAS Hanwei official website:
Many of our products, and all of our swords, are made by Hanwei in China, in their Dalian facility. Our GDFB line of reenactment products is made by GDFB in Delhi, India. Our line of Synthetic Sparring Swords are made in England by Rawlings. The Kizlyar Supreme brand of knives are designed and made in St. Petersburg, Russia. The Viper by Tecnocut line of knives are made in Italy.
Market Position
CAS Hanwei and their affiliated brands occupy a few market positions, ranging from swords offered at prices as low as $170 to swords priced at amongst the highest end for mass produced swords at $2700.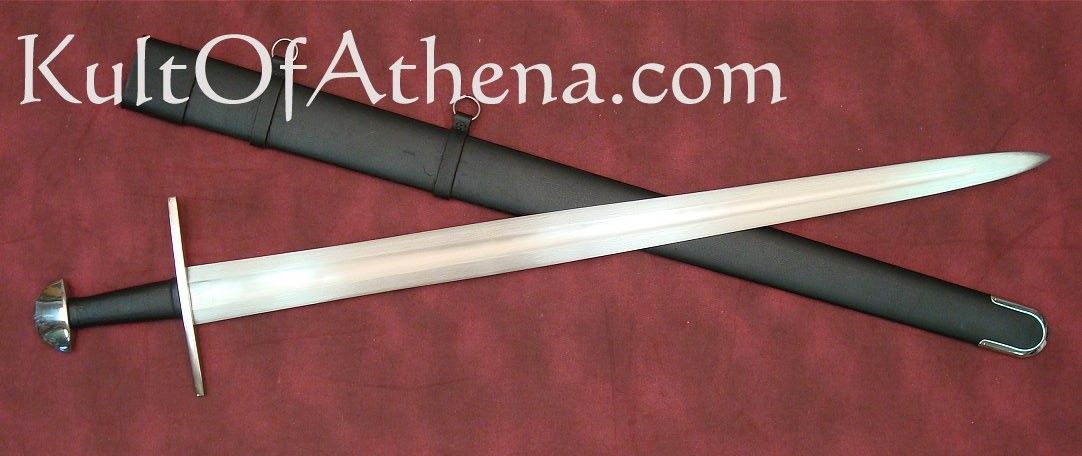 The sturdy and capable Hanwei Tinker Norman sword is an Oakeshott Type X transitional viking to medieval style.
Pros
Hanwei Tinker Pearce Line
- the Hanwei Tinker Pearce line is excellent, and represents some of the best value for money mass produced swords available. The Hanwei Tinker Pearce line are all designed by renowned sword maker Michael Pearce himself. The Tinker Pearce line represent excellent performance and the austere and harmonious lines for which Medieval European battlefield swords were renowned.
Japanese Swords
- Hanwei are amongst the best mass manufacturers of Japanese style swords and utilise a broad range of techniques and materials to offer swords at a variety of price points. Generally speaking Hanwei are very well thought of makers of Japanese style swords.
All Hanwei Katana swords feature real hamon (i.e. differential hardening) unless otherwise specified.
Cons
-
Anachronistic Design
- some of the cheaper European style swords CAS Hanwei offer feature design elements which aren't brimming with historical authenticity. For some people this is an annoyance, though for others it does not matter. In the case of the Tinker Pearce line several offerings have nut based finials on swords that historically were not assembled in that way (nuts not being used on swords until the 17th cenutry), though it is worth pointing out that the Norman and Viking models are both peened (which is an historically appropriate method of securing a hilt assembly), and furthermore that a nut based assembly can be extremely practical and useful for disassembly.
Another example of anachronistic design can be found in the use of fibreglass scabbards. Again for some this is a problem, while for others not a problem at all.
Distal taper
- or lack thereof it. Again, this is an issue that applies in the main to the cheapest swords which often do not have distal taper. It should be noted however that all of the Hanwei Tinker Pearce line feature excellent distal taper.
Third World Manufacture
- the almost omnipresent dilemma presented by most manufacturers of mass produced swords.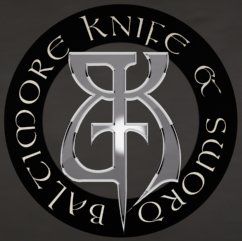 Baltimore Knife and Sword
BKS as they are usually known are relative newcomers to the sword manufacturing scene and operate out of, you guessed it, Baltimore!
Market Position
In terms of price BKS offer swords from about $350 through to pattern welded (damascus steel) models that come in about $1500. They also manufacture spear heads, pollarms / pole-arms and other related weapons. BKS make weapons with thick edges and fittings intended for stage combat and reenactment.
ProsMade in the West
- BKS manufacture weapons in the U.S.A. so you can be certain that relevant safety protocols are adhered to by their workshop.
Tough
- BKS have a reputation for making sturdy swords.
Cons
Grips
- Although BKS makes swords well, their black spiral leather grips are not the most attractive offerings available from a sword marque, they do however do their job and are not known for coming off easily.
Chunky
- Because BKS make swords for stage and reenactment they are required to over-engineer their swords. As a result their fittings and blades tend to be on the heavy and thick side, which can detract from their appearance. It is worth pointing out though that they are designed this way for a reason.
Del Tin Armi Antiche
From Del Tin's Official Website:
Silvano Del Tin together with his older son was producing switch-blade knives and stilettos in his workshop in Maniago, when in 1965 they decided to make some replicas of antique weapons. At first this was jus a hobby, indeed Silvano and son made some swords,halberds, axes, maces and other items for themselves. Later they exibited them in an exhibition in Florence. Due to the great success they obtained in that exibition, They decided to drop the traditional production of knives to make exclusively replicas of old weapons.
Fulvio Del Tin joined his father in 1970. Since 1989 the DEL TIN ARMI ANTICHE COMPANY is led by Fulvio Del Tin and nowadays it is offering a wide range of replicas of old swords and daggers and other weapons, from the bronze age up until the seventeenth century. Throughout these years Fulvio Del Tin analysed and produced a great number of pieces based on the originals hold in museums and private collections. His purpose is to make accurate old weapons that in quality and look are equal to original ones. Occasionally the research is also based on the iconography of the time to create pieces no longer in existence.
Market Position
Del Tin make excellent swords that tend to occupy the $350 - $850 price range.
Pros
Faithful Reproduction
- Del Tin make swords which show strong fidelity to the originals they are copied from.
Attractive Fit & Finish
- although Del Tin do not offer swords from their mass production range which are finished to the same level as high end custom their swords are almost always easy on the eye. Swords come with beautiful finishes on their blades, though cast steel and copper alloy fittings tend to be machined to a slightly less polished state.
Historically Appropriate
- by and large Del Tin swords are produced and assembled in a way that is consistent with historical norms, for instance: peened tangs.
Cons
Not Shipped Sharp
- Italian law prohibits Del Tin from shipping swords with a sharp edge, so their swords come with an edge that is comparable to a butterknife's sharpness. However it does not take long to sharpen a butter knife sharp edge even if the sharpening is done entirely by hand.
Welded Tangs
- This is not really a fault, but is worth noting for some buyers. On
some
models Del Tin use welded on tangs. This tends to be on the longer models of sword. There are no reports I am aware of of Del Tin swords breaking in the handle / tang however.