Post by Jack Loomes on Dec 7, 2013 13:26:57 GMT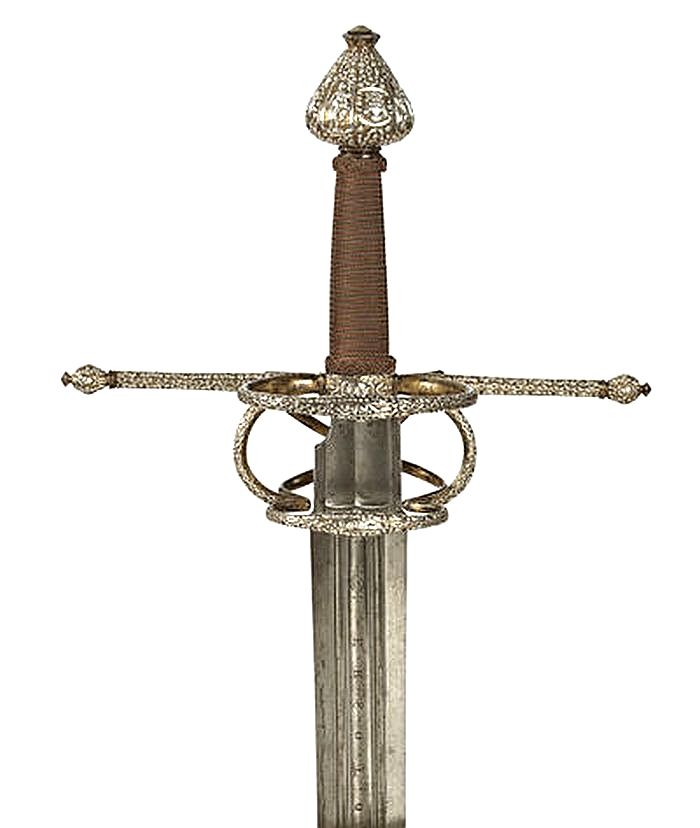 Dated: circa 1570
Maker: Miguel Cantero
Culture: Toledo, Spain (blade); Dresden, Germany (hilt)
Medium and Techniques: steel, iron, partly gilt, encrusted with silver, with copper wire
Inscriptions: 'MIGUEL CANTERO';'EN SOLO DIO CONFIO' and a crowned 'C' for Miguel Cantero of Toledo, Spain
Measurements: overall length: 109.5 cm, hilt length: 18 cm, blade length: 91.5 cm, quillons width: 26.5 cm, hilt depth: 13.6 cm
This is one of the finest swords in the Museum's collection. This type, with a simple cross-shaped hilt similar to old medieval swords, remained in use in Saxony until the 17th century. The sword was probably used as a military rather than a civilian weapon as its open hilt could be compensated by other hand protection such as a gauntlet or chain mail. Its rich ornament of silver on a gilded background suggests it was probably used by a wealthy prince or his household guard and possibly comes from the armoury of the Electors of Saxony.
The blade is a fine example from Toledo in Spain and is signed by the maker Miguel Cantero. Sword blades were articles of international trade, made in a few important centres and shipped all over Europe where they were fitted with hilts in the local fashion. During the 16th and 17th centuries the sword blades of Toledo, Valencia and Milan were the most sought after although the largest centre of production was the German town of Solingen.
Guild regulations in Toledo were strict. Those seeking to practise as swordmakers had to pass strict tests of quality stipulated by the King. The finest European hilts were usually equipped with a Spanish blade but if not available a German blade (sometimes with a spurious Spanish inscription) was fitted instead.
Swords were not just weapons but important decorative elements in masculine costume. They were symbols of honour and rank for their owners throughout Europe. They remained an indispensible feature of outdoor dress of any person with pretensions to status until the late 18th century in Europe.
Source:
collections.vam.ac.uk/