Post by Jack Loomes on Jul 21, 2013 17:14:16 GMT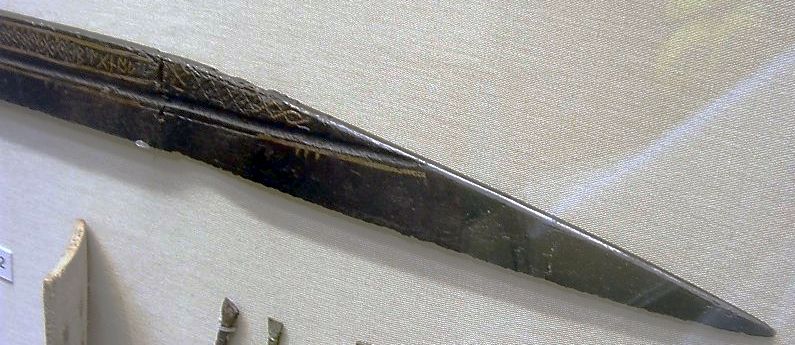 Iron seax, with a straight cutting edge running parallel to the back, which is angled towards the point. The broad tang is offset from the blade, which is decorated on both faces with linear ornament formed by hammering polychrome wires into the surface of the metal. Along the back of the blade on each face is a narrow rectangular panel bordered by two lines composed of strips of twisted copper and brass wire.
Below this panel, and running parallel to it, is a deep median groove flanked by a similar inlaid line with pendent brass triangles. On one face the rectangular panel is inscribed with two texts. They are separated by a herringbone design in silver and brass, and a fragment of a running lozenge pattern in silver and copper, and silver and brass twisted wires, each lozenge containing a copper or silver billet.
The first inscription is a twenty-eight letter 'futhorc' or runic alphabet. The second inscription, also in runic characters is an old English personal name, presumably the owner or maker of the seax. On the other face the panel is filled with a running lozenge pattern, similar to that on the front, but the lozenges only contain silver billets, and the triangular fields between every lozenge have an inward-facing copper triangle. The spine of the seax is inlaid with nine groups of short transverse lines in silver and brass twisted wire. There is a vertical cut at the end of the panel where it narrows towards the point, and beyond it some of the decoration is missing, but the cross-hatched keying for the inlay still remains.
Length: 721 millimetres (overrall)
Length: 170 millimetres (handle)
Length: 551 millimetres (blade)
Thickness: 8.2 millimetres (thickest point)
Width: 38.7 millimetres (widest point)
Weight: 985 grams
'Seax' is the generic Old English word for knife, but is used by archaeologists to describe the larger iron single-edged knives which first appear in Anglo-Saxon graves of the seventh century. Later examples tend to be isolated finds, often from rivers, devoid of any associated material, and not susceptible to close dating. They were used both as hunting and as fighting weapons. The later seaxes can be divided into two main types: one group, to which this seax (Battersea) belongs, has a long narrow blade with the cutting edge almost parallel to the back; the other, represented by a seax found in Sittingbourne, Kent (reg. no. 1881,0623.1), has a shorter, broader blade with a sharply angled back. The two types may well have been contemporary, but there is some evidence that the second group is slightly later in date.
Several undecorated seaxes of the Battersea type are known, including three from London, and one from Suffolk (Evison 1964, 30-3). Similar inlaid examples come from Hurbuck, Co. Durham (Wilson 1964, no. 22), and from Keen Edge Ferry in Berkshire (Evison 1964), the latter so close to the Battersea seax in its basic shape, method of construction and inlaid ornament that they may have been products of the same workshop.
The Anglo-Saxon runic alphabet, known as a 'futhorc' from its first six letters, had thirty-one characters. Numerous runic inscriptions have been found in this country, ranging in date from the fifth to eleventh centuries. Some are carved in wood or on memorial stones, to which they are ideally suited as all the letters are composed of vertical and diagonal lines; others occur on coins, weapons and jewellery. The runic alphabet on the Battersea blade is the only epigraphical 'futhorc' to survive in England, although numerous examples are known from Scandinavia. It may have had a magical or protective function, the significance of which is now lost. Certain aspects of the inscription, such as the order and form of the letters, indicate that it was probably incompetently copied from a manuscript 'futhorc' and is a later survival, produced in southern England at a time when knowledge of runes was fading and imperfectly understood.
Source:
www.britishmuseum.org/research/collection_online/collection_object_details.aspx?assetId=34869&objectId=86215&partId=1