Post by Jack Loomes on Jul 12, 2013 9:47:27 GMT
By Martin Rundkvist
Happy Djurhamn project co-directors Katarina Schoerner and August Boj
Aided by many volunteers and using tools borrowed from my dad and the Stockholm County Museum, I've spent the day getting the Djurhamn sword out of the ground.
I found the sword on 30 August while metal detecting around the Harbour of the Sheaf Kings. Today we marked out a 2.5 by 2.0 metre trench around the sword, got rid of a lot of vegetation, dug and sieved 2.5 square metres and got the sword out. Its point was wedged between the roots of a large hazel bush, so I only got it out in one piece thanks to its excellent preservation.
It's a straight double-edged sword, 92 cm long with a single-hand grip. Nils Drejholt of the Royal Armoury tells me that it's an early-16th century weapon, unusually designed but similar in details to the so-called rikssvärden, "swords of the realm", ceremonial weapons commissioned by King Gustaf I.
The date tallies well with the level above the sea considering shore displacement. The sword appears to have been dropped into the water from a nearby quayside whose remains I've located or from a ship moored at the quay. Indeed, judging from the topography, Djurhamn was a really good harbour only until about 1600 when the entrance channel to a natural lagoon had shrunk too much to allow the passage of ships any more. The former lagoon is now a large tract of marshy forest.
We wrapped a thick wooden board in foam-plastic sheet and strapped the sword to it before sealing the whole thing in more foam sheet and corrugated box board, Sw. wellpapp whatever that kind of composite cardboard may be called in English. Next, off to the conservators. But first, another day of sieving, cleaning-up and backfilling. Today's sieving didn't turn up a single find, but we have two brass buttons possibly coeval with the sword from metal detecting in the vicinity.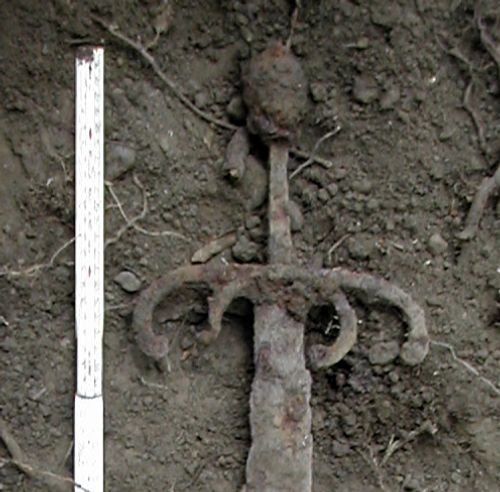 Source:
scienceblogs.com/aardvarchaeology/2007/10/01/djurhamn-sword-excavated/