Post by Jack Loomes on Dec 5, 2013 12:08:01 GMT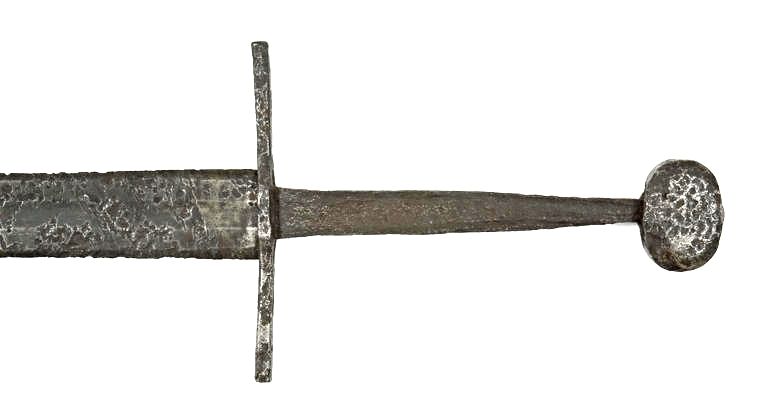 Date: circa 1300 — 1400
Period: early 14th Century
Description: Hand-and-a-half war sword or bastard sword. Type XIIIA. Broad, oval wheel pommel, the central boss rectngular in shape and cut breadthwise with two deep parallel grooves. No rivet button. The whole pommel is very flat, and light seeming. Long tang covered with 19th century grip, obviously made at the same time and for the same collection as HEN.M.188-1933. Long straight cross of hexagonal section, widening a little toward the tips. There appear to be traces of some sort of plating on the pommel and the cross, of ? silver or ? tin. Blade of flat hexagonal section with a narrow rather shallow fuller running some one-third of the length. This fuller on one side runs up under the mid-part of the cross, and the other stops about 3 cm short of it. Fairly sharp point.
Production Place (legacy): Europe, production, continent
Production Note(s): Western European
There is a very strange patination on this blade, showing that it has corroded in contact with something wrinkled, like fabric. This is strongly suggested by a band about 2" wide where it has clearly been wrapped round by a strip of woven material, maybe a belt? It does not look as if it has been in a scabbard.
Technique(s): casting (process); whole plated; pommel
Material(s): steel; whole leather; bound tang silver; plating; or tin
Technique Description: sword, cast, with traces of plating on the pommel
Dimension(s): length, whole, 114.5, cm length, blade, 89.0, cm width, blade at hilt, 4.0, cm length, tang, 29.5, cm, width, cross, 20.0, cm
weight, whole, 1.40, kg
Acquisition: bequeathed; 1933-03-16; Henderson, James Stewart
Provenance: Sold at the Helbing Gallery in Munich 1908
Inscription: mark; both sides of blade; inlaid; made at a later date
Accession: Object Number: HEN.M.187-1933 (Applied Arts)(record id: 18824; input: 2001-01-25; modified: 2011-12-02)
Permanent Identifier:
data.fitzmuseum.cam.ac.uk/id/object/18830
For more information on Oakeshott Type XIIIa Swords see this extract from Ewart Oakeshott's Records of the Medieval Sword:
sword-site.com/thread/152/oakeshott-xiiib-records-medieval-sword
If you would like to buy a functional reproduction sword then our sponsor Kult of Athena have the largest range by far of any vendor and consistently sell their swords at the lowest prices of any company I know of.

Click here to browse their fine selection and in so doing help with the upkeep of Sword-Site!
Kult of Athena Web Store
Source:
www.fitzmuseum.cam.ac.uk/explorer/index.php?qu=sword%20OR%20pommel&oid=18830