Post by Jack Loomes on Sept 21, 2015 9:43:52 GMT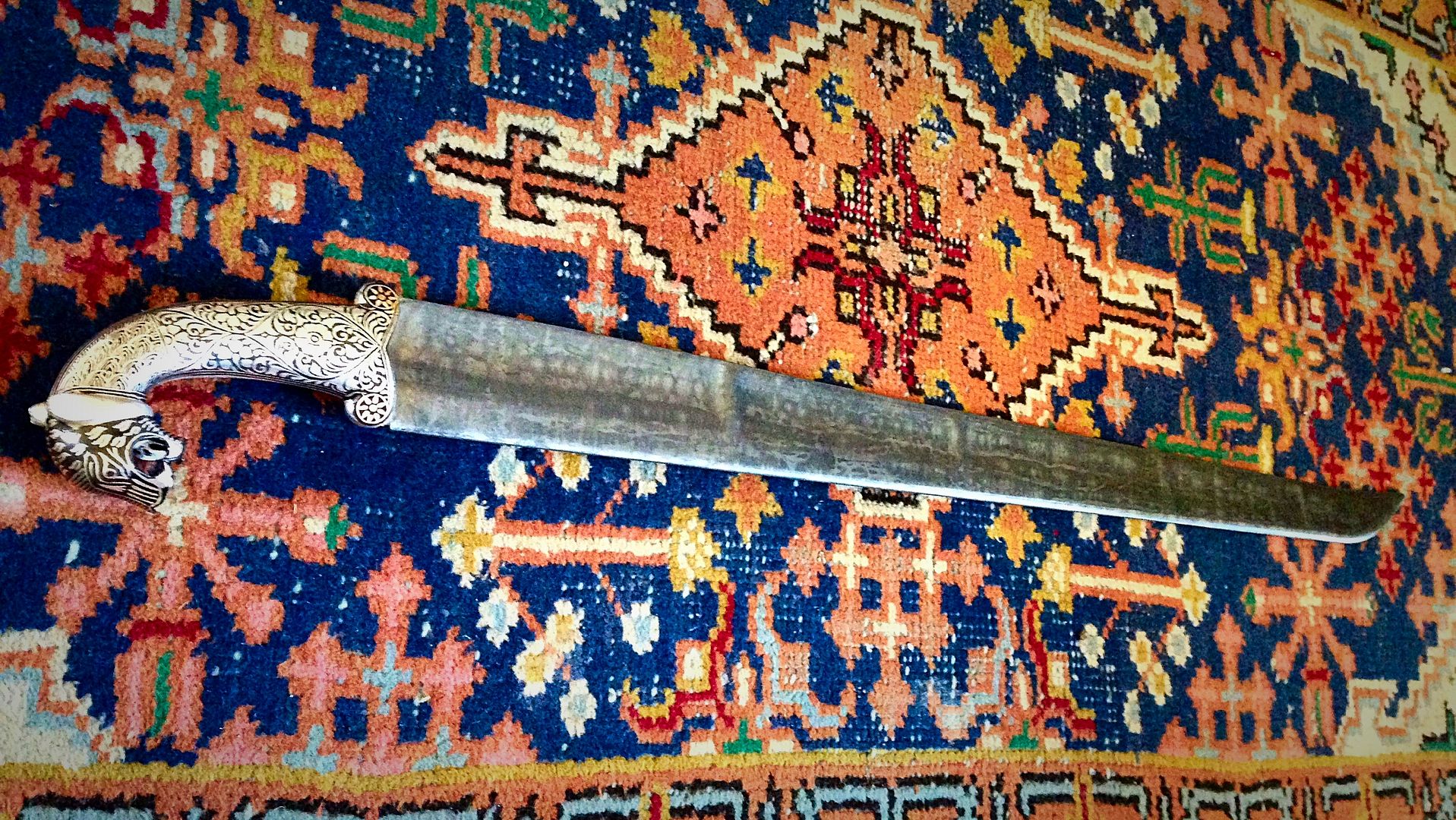 So I've been tinkering with this sword for a while. It is a single edged sword with a mughal hilt I purchased from a very talented craftsman called Satyanarayan Sikligar
snsikligar@gmail.com
who makes mughal hilts with genuine silver koftgari which has tremendous resistance to abrasion.
I bought two so one went on this sword which I'm selling:
sword-site.com/thread/970/swords-broad-bladed-mughal-saber
(I've since made a scabbard for it too which comes with it.)
Back to the backsword though, I really like the offset fullers of the Georgian and Caucasian Kindjals and Qamas, and offset fullers make rare appearances on late migration era / early Viking era swords as well. Offset fullers are quite common on late classical Roman swords (for instance late spathae frequently featured two on one side three on the other and other configurations). Offsetting fullers tends to have the effect of stiffening the blade, which is a quality I prize in swords, but also would undoubtedly make a sword stronger by minimising or eliminating the thin spots that matched fullers impart (for instance a medieval sword of Oakeshott Type X or XII generally sport a thin spot in the very centre of the sword).
With this in mind I thought I'd make a single edged sword with a broad blade and offset fullers. I created a basic mathematic formula to achieve this though I can't remember the pattern off the top of my head, but it was nothing incredibly complex, just a neat set of opposing numbers. I started as almost always with 1075AISI Australian Spring Steel, hardened and tempered to perfection by the manufacturers of industrial guillotines who usually produce cutting implements for the mining and printing industry. If you want top quality steel and heat treat fish around big industry players, they have access to equipment and the expertise of professionals that are top notch, and though you might find many of these companies can't afford to work on a project as small as a batch of ten or fifteen sword blanks, you'll find that just such a job will pique the interest of a few of these companies enough that you can get them on board. Go for Western manufactured steel wherever possible, or Japanese. Nothing against Chinese people, but unfortunately Chinese steel tends to be of a lower quality due to cost cutting. If you're going to spend hundreds of hours making a sword make it out of the best steel you can. In my view Australian Steel is the best I've worked with. The ore is superlative, and the quality control is excellent. I'm biased though being of Australian descent! Germany, Sweden and Spain all make great sword steel too. The Japanese are great at refining steel but their ore generally comes from elsewhere, and prior to that the Japanese had to extract iron from sand for swords, which has its pros and cons.
I liked the sword when finished but the fine polish I'd put on it just seemed a bit off key. I decided the blade needed a patina, but not a brutal one like burying it, just a general darkening. I achieved the patina it now has, which I'm really happy without a single grain of salt (sodium chloride) touching the sword. Mustard (the kind that contains salt) and salt etches are effective, but it has been my experience that no matter how much I scrub and oil, once the salt gets into steel it buries itself into the steel and even years later causes unstable red rust to form. Harsh acids cause stress microfractures to form
Stress Corrosion Cracking - Wikipedia
With all this in mind I soaked a rag until it was wet with water, then wrung it out (keeping it still completely damp). Then I soaked the rag in vinegar (white). Next I wrapped the sword completely covering the blade (having first wiped the blade down to clean it with methylated spirits (a.k.a. denatured alcohol) and allowed it to dry. The rag I held in place with clothes pegs ensuring a close fit. I left the sword in the bath (bath was empty) ensuring that each side of the blade received an hour as the 'face up side'.
This left the blade with a relatively uniform grey patina. To make the patina more complex I then chopped up an onion and got a bowl full of used coffee grains (still wet). I placed each on the sword in turn (onion first). I made sure the onion was really well chopped up as I didn't want the distinctive curved onion shape on the blade, just a more or less random patination spread with vague uniformity across the blade from the onion juice. The coffee was much easier to create a spattering effect with. I then cleansed the blade and repeated the process with tea leaves (used and still wet).
The thing that really tied the patina together though was applying gun bluing liquid evenly over the entire sword using a paint brush. I first brushed the bluing liquid on vertically, then horizontally, ensuring complete coverage. I left the blue on for about a hour in a well ventilated area. To finish I cleaned the blade with plenty of water, soap and a clean rag, ensuring to wear gloves. I then rubbed the whole blade down with oil and rubbed it vigorously with a rag.
It was a time consuming process but the end result was worth it. I neither compromised the blade with harsh acids, nor subjected it to an uncertain future with salt based etching. The resulting patina will afford a modest amount of corrosion resistance and is much more in keeping with the overall design aesthetics of the sword.
The tang is almost as wide as the grip, cold fitted, and then glued in place with two tonne per square inch strength epoxy. Once the epoxy has completely cured I fill the grip with liquid nails construction adhesive. Epoxy resin can cure in the absence of air but I always wait for it to fully cure before proceeding anyway, and this allows me to ensure the cold fit and epoxy are solid as a rock. Liquid nails does need air to cure so it comprises the last step. Epoxy is stiff, but liquid nails is flexible, so the two make excellent companions. Liquid nails also has the excellent property of being highly shock absorbent. The tang is scored with a file and cleaned thoroughly ( denatured alcohol / methylated spirits )to ensure excellent adhesion prior to cold fitting and gluing, and the inside of the grip was cleaned with sand paper and denatured alcohol / methylated spirits. I could not shift the blade out of the handle if I wanted to short of sticking the whole thing in a fire, so I can see why the Mughals, Indians and Middle Eastern sword makers have used this construction method with such success despite my having previously believed that rivets or a peen was the hallmark of a solid grip construction.
Many people insist that swords should necessarily vibrate but I disagree, and in my view the misbelief that all swords should vibrate comes from the study of swords in excavated condition that no longer have intact their grips or cutler's glue. Swords in excavated condition also have the added deception of being thinner than they were in their prime, making it more likely that they will suffer strong vibrations.
Most swords do not suffer from susceptibility to vibration, take for instance katanas. I found that a suitably shock absorbent grip nullifies vibration on virtually all swords. In the past this I believe was achieved with cutler's glue (boiled pitch among other substances were used) and the use of the highly absorbent limewood (a hardwood with a density comparable to pine - limewood 540 kg/m3 - pine 545 kg/m3), though in the modern day sword makers in the English speaking world have been opting to use super high density hardwoods coupled with epoxy resin. The latter seems like a good idea on paper - epoxy and hardwood are both stiff and strong, but without a suitable shock absorbing agent (in my experiments liquid nails for instance) the whole sword becomes a single rigid unit, which naturally becomes extremely spring like. Not suprisingly swords assembled with only epoxy and hardwood grip construction (regardless of whether they are covered with string and leather) frequently quickly develop rattles - as the epoxy cracks under the strain of repeated vibration regardless of the relative strength of the epoxy - epoxy is incredibly strong but needs mechanical reinforcement as it does not possess robust resistance torsion.
A sword which is so rigid and with an incredibly dense hardwood like stabilised birch forming the grip (stabilised means the wood has been impregnated with epoxy resin at super high pressure and with a density of 750kg/m3 [even unadulterated birch is 670kg/m3) or cocobolo (extremely dense [1009+ Kg/m3] as well as being logged under invariably unethical and frequently illegal conditions +.) creates, not surprisingly, a more or less continuous spring without the ability to dull vibration. This results in a very small useful cutting area (as the majority of the blade oscillates when brought to bear on a target unless the strike lands on the centre of percussion).
The Japanese use bamboo pegs which hold blades in place with more than a small amount of potential energy being created in the process, and acting as a shock absorber. Middle Easterners use mastic in a majority of their swords, even a decent machete (such as Tramontina) feature a tang which is embedded into the grip through a cut on one side only (at the cutting side), with the back of the grip remaining uncut and forming a solid and thick whole with the other side - ergo excellent shock dampening despite most machetes being made of comparatively thin steel (2.5mm as compared to the average modern 4mm of a reproduction sword and the 6mm stock of custom swords [6mm being the most common thickness of the thickest point of many historical western European swords).
+.
www.wood-database.com/lumber-identification/hardwoods/cocobolo/