Post by Jack Loomes on Jun 26, 2015 16:25:26 GMT
CANYONERO!
The social satire of
The Simpsons
pretty much sums up mens' obsession w/impractically large swords - the Romans knew the value of getting up close, and a long sword made that less likely. George Silver urged swordsters to avoid the temptation to buy a sword that was
no
longer than the length spanning the distance from one's right hip, to the wrist of one's left hand - but the left arm must be bent with one's forearm being perpendicular to one's bicep.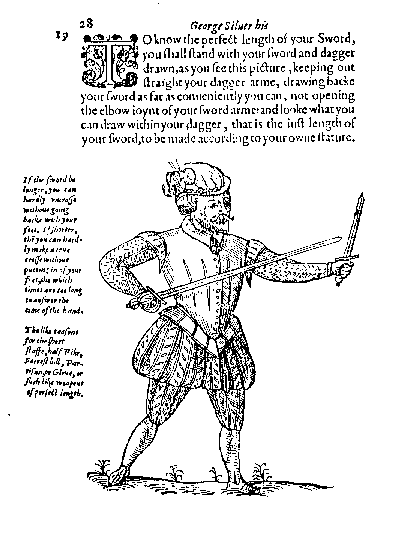 Long swords and big two handers have very limited use in mass combat and when used in mass combat (as opposed to their most common use in civilian duels, a completely different type of fighting), were used primarily as spears, and in single combat as an expensive quarterstaff - note that arguably all extant fechtbuchs and renaissance fencing manuals deal with judicial combat, duels and other civilian matters - not warfare.
But hey, I guess alot of people want to be Arnie as Conan from the early 80's or Aragon swinging Narsil wildly; both actors waving their beautiful but over-sized swords in combat situations that would probably add them to the list of causalities rather than carve a glorious path through the enemy who conveniently come at our heroes one at a time - our heroes absent shields no less.
Which makes me wonder, is reenactment and modern sword culture about figuring out what works from books such as Eastern Roman Emperor Maurice's
Strategkion
or
The Paradoxes of Defense
by George Silver, Englishman - or is the vast majority of the herd online so bent on the fantasy of being some imagined two handed sword wielding individualist who could theoretically exist in Peter Jackson films or some penny dreadful by Ge0rge R.R. Mart1n?
If two handed swordsmen existed they would have fallen into several categories, which are at odds with Internet lore:
1.
Civilians who use longswords for dueling [which is what the majority of extant pictorial codices would imply](and some knights who may have use longsword for duelling tournaments)
2.
Pike Cutters who were tasked with attempting to break up the corners of pike formations (which must have been an incredibly dangerous job with a high fatality rate) - in this case the big swords were probably invariable flamberge (a very long sword with a wave like blade silhouette). Pike Cutters probably existed as a troop type for a period of about 100 years or so during the reign of pike and musket.
3.
Fully armoured (head to toe) shock troopers who existed variously probably until the Battle of Varna. This kind of Knight was probably most common in France.
4.
Dacian Falxmen who it is stipulated used their extremely long swords primary as
spears
and used them for swinging only when the enemy was routing.
en.wikipedia.org/wiki/Falx
5.
Japanese Samurai. From the Tokugawa Shogunate until 1854 however Japan was essentially closed to foreigners however, so the Japanese style of sword fighting is, in my view, basically untested against any foreign system (in particular those who use shields which I would put my money on over a shield-less fighter nine times out of ten).
en.wikipedia.org/wiki/Foreign_relations_of_Japan#Europe
6.
Scottish Two Hander swordsmen. I think Scotland is great, in fact my Mother is the descendant of the most famous border reiving clan, but a Scotsman with a Claymore in a pitched battle or even a duel is at a distinct disadvantage to a shield bearing fighter.
The fact is, as George Silver points out, and the Romans knew it implicitly which is why they spent so much more providing their soldiers with a javelin that could not only piece an enemy's shield (and possibly the enemy, or force the enemy to drop his shield) that, to paraphrase George Silver the fight without shield will result in both sides becoming injured and therefore shield-less fights are imperfect and that the dagger is an imperfect implement for blocking.
I guess shields don't appeal to hollywood as much as they appealed to real swordsman though; hence the reason there are so many wannabe Aragorn's floating around, and why Longsword fighting schools are multitudinous when George Silver would make a better teacher to aspire to.
We know that the Varangian Guard of the Byzantine Emperors primarily carried two handed axes, however this was obviously not all they fought with as numerous swords whose provenance is far more likely to be Varangian Guard than not have surfaced from Bulgaria and other sites in recent years. The tradition of carrying axes dates to antiquity - Ancient Romans of note were protected by bodyguards brandishing rods (Lictors), rods which were affixed with an axe head at times.
en.wikipedia.org/wiki/Fasces
We must also keep in mind that Byzantines fielded the most sophisticated armour the medieval world ever saw, arguably better even than full plate, and probably strutted around Constantinople and on the field wearing a level of protection comparable to the famous Katphracts. The Byzantine Kataphract panoply was so advanced and effective it saved Emperor Alexios from two Norman Knights who landed lance blows on him at full tilt, and numerous attacks from Norman foot soldiers. Anna Comnena.
The Alexiad
, 4.6.
Another Example of Just Such a Sword Showing a Blending of Nordic & Roman
What Was In All Likelihood a Varangian Guardsman's Sword
Lamellar Construction in the Eastern Roman Empire
Levantia's Section on Romaic Armour
An Exceptional Reproduction of Lamellar Armour by Dr. Timothy Dawson
Wikipedia Article on the Kataphract as a Troop Type
The Uses of The Varangian Guard by Dr. Timothy Dawon - Tim Demonstrates That The Varangian Guard Were Nominally Meant To Protect the Emperor Which Meant Staying in Constantinople
This Example from the Alexiad & Battle of Dyrrahachium I Believe Shows a Vulnerabilty of the Two Hander Weapon - Susceptibility to Ballistic Attack
I'd say we may well be able to count the Battle of Cerignola as the death of the knight in full armour; the Chevalier, or Landsknechts - as the Spanish turned up to fight with thousands of hand guns - whereas the French and Germans for all their bravery and tenacity simply could not withstand the onslaught - and therefore also the death of a brief period where hapless warriors fought with two handed swords absent shield.
en.wikipedia.org/wiki/Battle_of_Cerignola
CANYONERO!