Post by Jack Loomes on May 27, 2015 7:27:50 GMT
Here's a sword I've been meaning to make for a long time. It was a type probably first used by the Avars, then like so much of the Avaric way of war, it was adopted by the Byzantines / Eastern Romans. As you can see in the historic sword gallery component of this site, the curvature on these types of swords varied wildly. Originally they were probably intended to be straight, though owing to the nomadic nature of the Avars they simply pressed swords which 'sabered' into service. As a result some are forward curving, others 'recurved', some are straight and others again have a long straight curve, but none from the migration era appear to have been as curved as the later tulwar and scimitars of India and the Middle East.
What the Avars probably discovered pretty quickly was that sabered swords, rather than being defective, could be quite effective in their own way. The Byzantines certainly would not have adopted the style were that not the case. I personally find the forward bend with a curve centered on the point of percussion (area of lowest vibration when the blade is struck with the flat of your hand) to amplify the cutting effect.
The other great thing about the Avar style of sword is the slender, and light style of their build. A narrow sword can still be heavy, but I've worked on this one being about bang on 1kg (measurments to come in the following days), so I'm able to do quick moves with it, but its stiff spine stops it from being overly flexible. None of these qualities are unachievable on broad bladed double edged sword, but I think the Avar sword might have been manufactured with economy of steel in mind given the nomadic nature of the tribe.
Alot of these swords had a strong bevel like a katana, and swords like this and the Chinese equivalents were probably the origin of the katana (see
sword-site.com/thread/702/avar-sword-saber-sabre)
, but I opted to use a gradual curve for the profile. There are a number of reasons I did this, but the main one is because I didn't want the sword to look like a katana - the katana being so recognisable now days and the Avar sword being virtually unknown I wanted to ensure my sword was differentiated from the ubiquitous Japanese shinken.
1075AISI Australian steel
6mm stock
Jute Twine Grip Wrap
Tasman Oak Grip
Engineering Brass Pommel + Guard
These two swords in particular inspired my sword design:
sword-site.com/thread/241/avar-saber-sabre
sword-site.com/thread/161/century-straight-edged-sabre-sword
& here is my interpretation: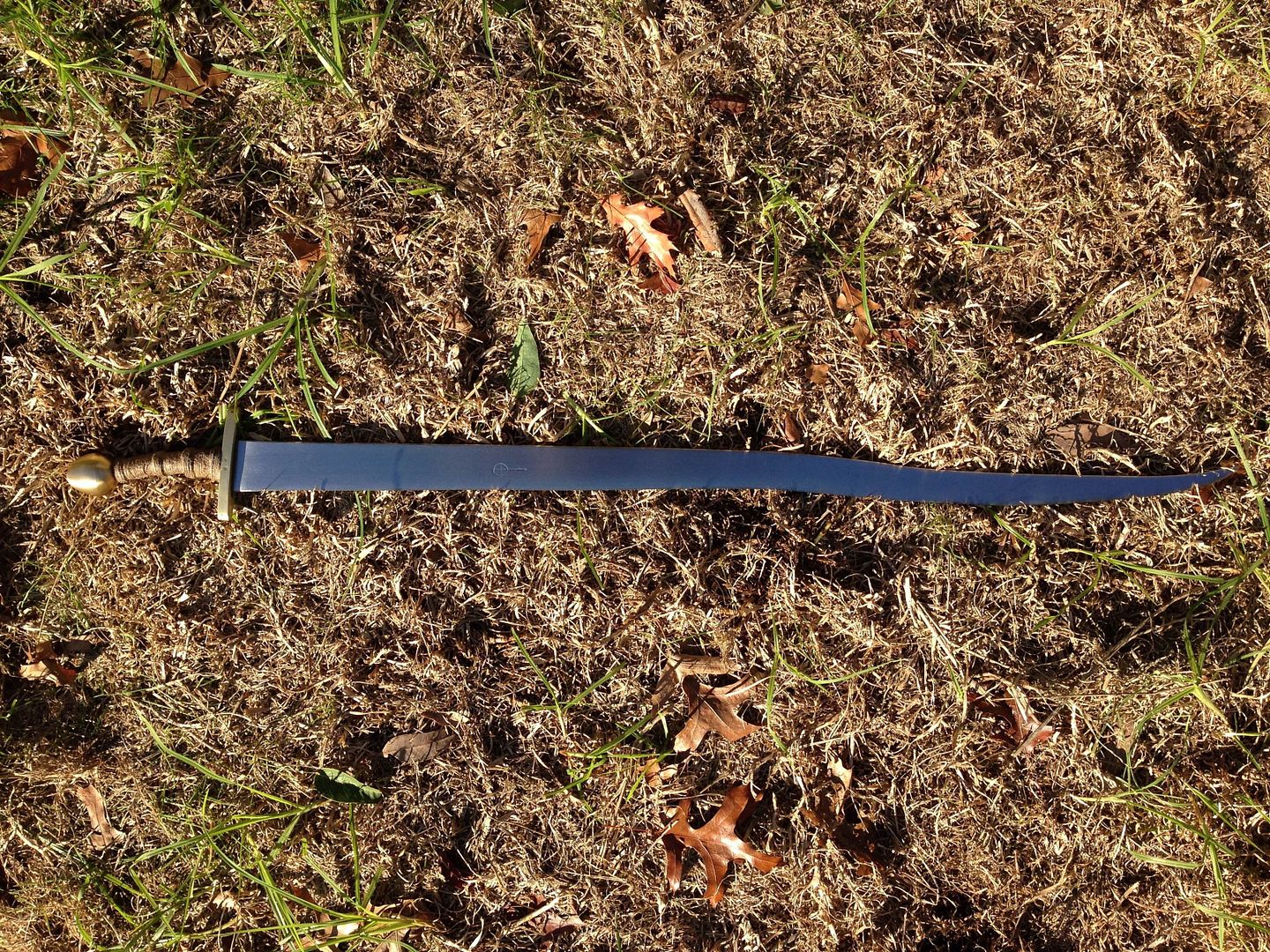 en.wikipedia.org/wiki/Pannonian_Avars